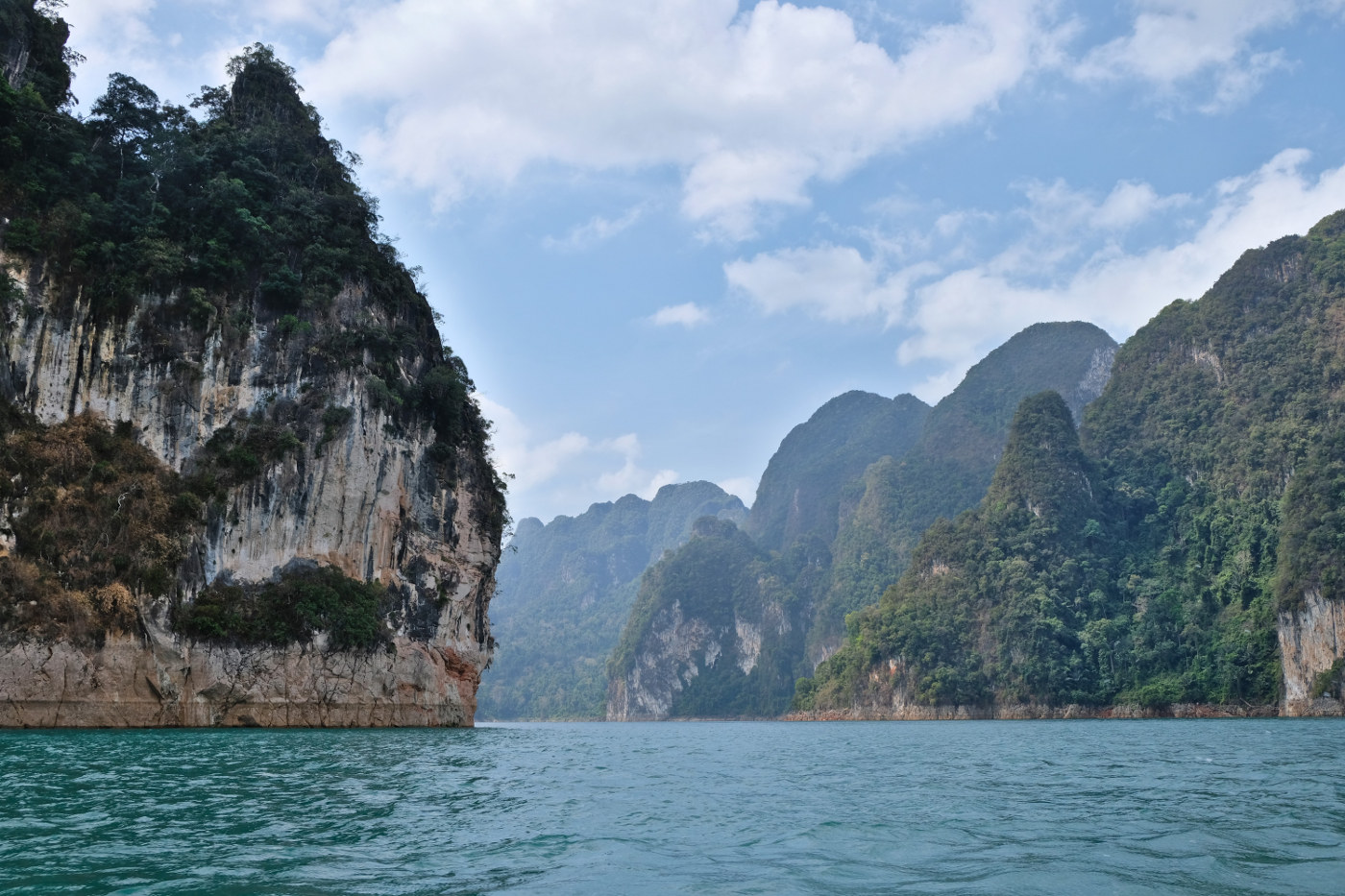 After four or five hours (it felt a lot longer) in another of Thailand's stuffed minibuses, now well familiar to us, we arrived in the beautiful Khao Sok. This was quite lucky, as we were briefly worried that we might arrive somewhere else entirely. As our accommodation had a big sign with all the possible places a minibus could take you, including 'Khao Sak'. Spelling mistakes are very common in Thailand, they use a different script (which is very pretty), meaning words and names are transliterated into the Latin script. We, therefore, presumed 'Khao Sak' would probably get us to where we wanted to go. A little panicked, we quick google map query showed us there was indeed a 'Khao Sak', and it is about two hours south of where we wanted to be! But luckily our initial assumption turned out to be correct and we were dropped off on Khao Sok village.
To add to the confusion, there are actually two Khao Sok's: Khao Sok village and the main entrance to Khao Sok National Park - about 65km away from each other. Khao Sok national park is a 739 squared kilometre of nature reserve filled with ancient rain forests, caves and a 164 square kilometre lake. The latter is actually human-made by a large dam built in the 80's, but beautiful nonetheless. The village is where most people stay, while the national park is what most people want to see. The best way to explore the national park is to either to join a tour or try to do it by yourself (which involves renting a scooter and chartering a boat). We quickly discovered that doing it ourselves would be twice the hassle and almost the same cost, so despite our mild aversion of organised tours we decided to join one.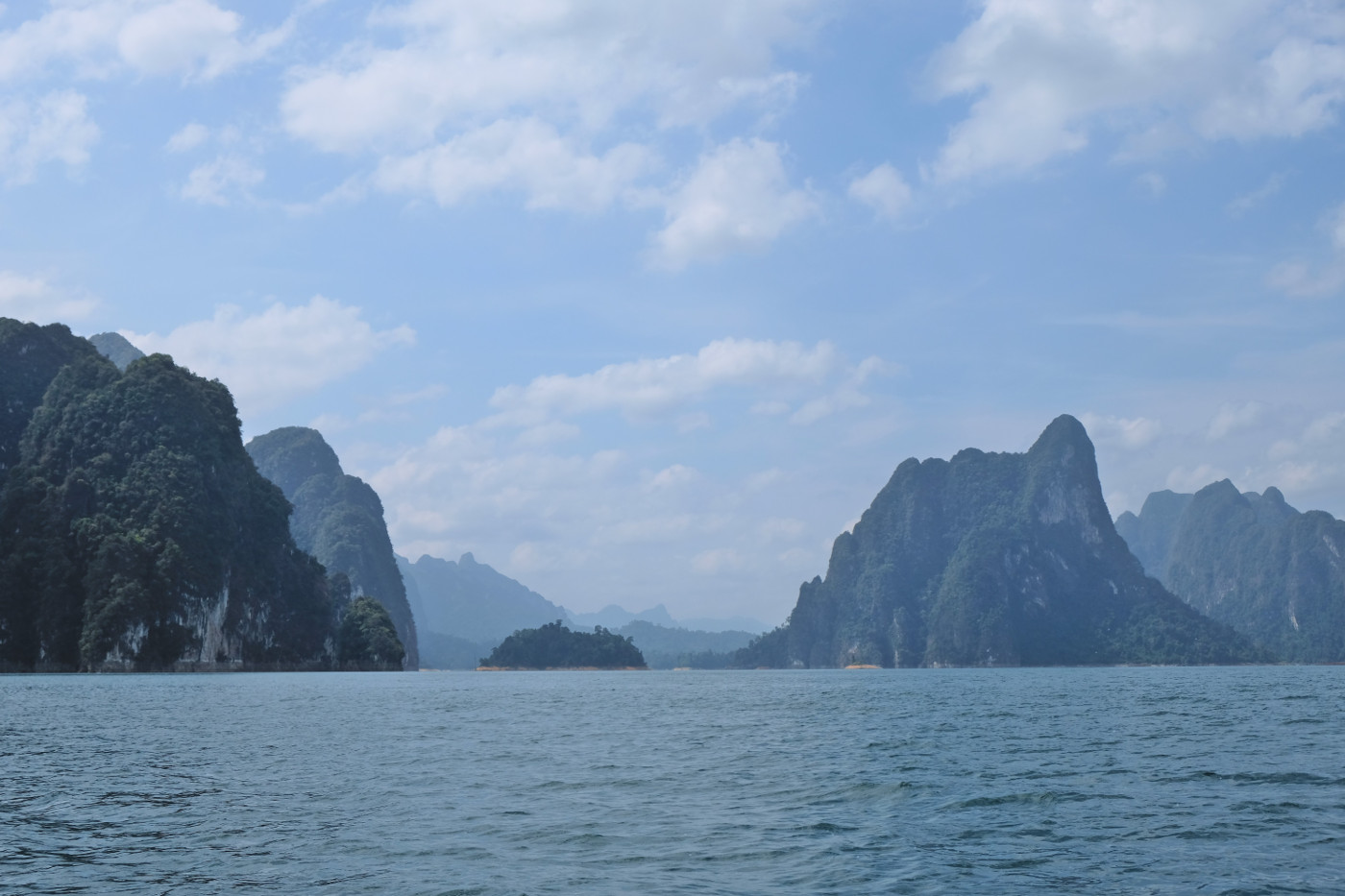 Surprise surprise, the tour started with a minibus ride, but the views were well worth it. Our mouths started to water at the sight of the beautiful cliffs surrounded by lush jungle - why has no one developed climbing in this area already?! Once in the park, the van was replaced by a longtail boat and here the beauty really started. None of the photos do justice to the immenseness of the lake and the raw beauty of the many cliffs that tower above the water. It reminded us of New Zealand's Fjordland (having explored both Doubtful Sound and Milford Sound), though others mentioned Halong Bay in Vietnam or Guilin in China. For us, this was the highlight of the tour, and very much worth doing.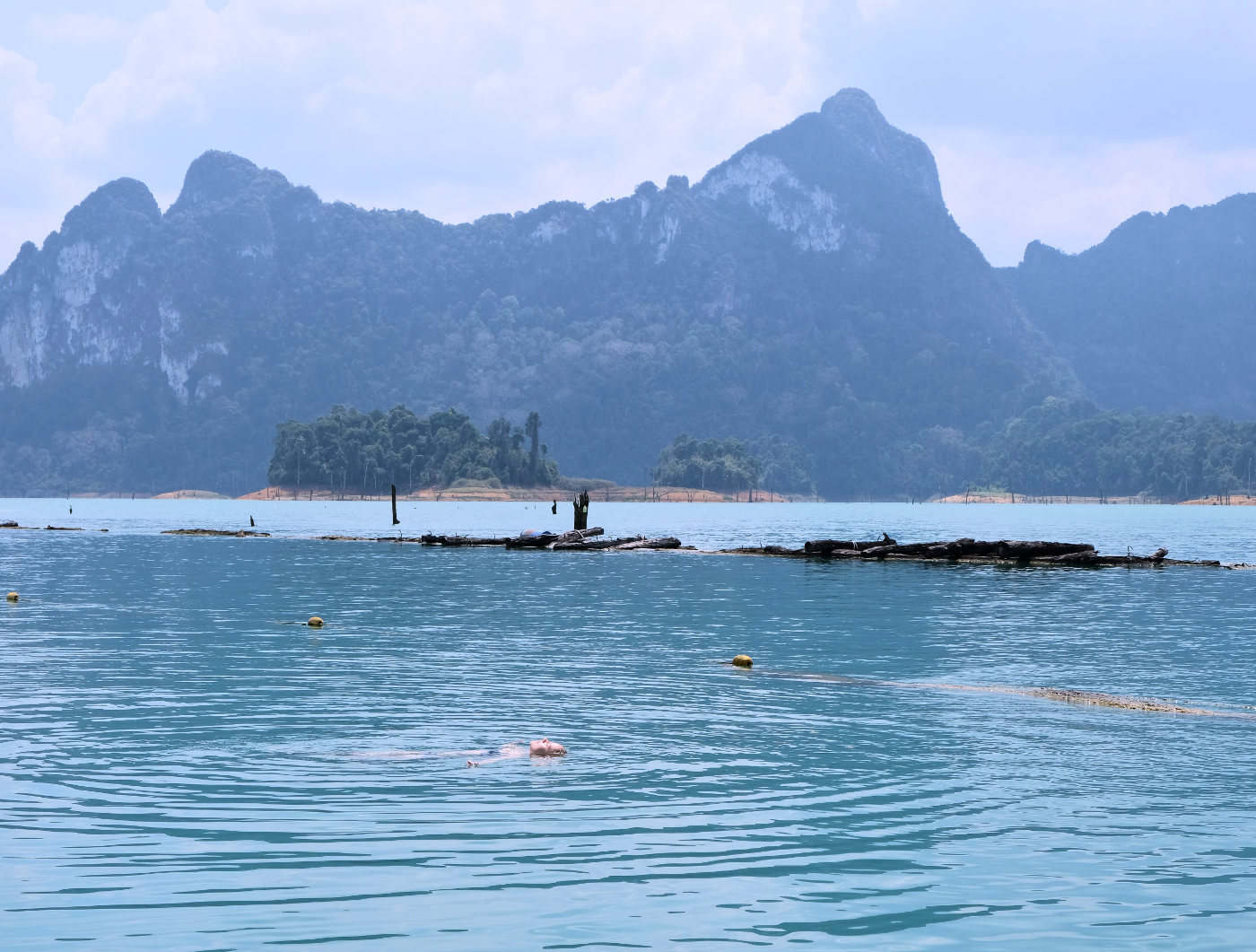 The first stop of the tour was at the floating bungalows. This is where many tourists stay the night as part of a two-day tour, but in the interest of our slimming wallets, we decided against it. Instead, we had a swim in the lake for about an hour - despite its great depth it was a perfect temperature. Post lunch, the longtail boat dropped us off for a stroll in the jungle with our tour group. I say stroll as it is one of the easier hikes we've done so far and it is not like we've strained ourselves that much as of yet… Though the mountain in Cameron Highlands was quite the adventure. The destination of the hike was one of the area's many caves. All head torched up, we entered the cave and were immediately waist-deep in chilling water. The cave complex had us clambering, swimming and wading over slippy invisible rocks or through sinking mud. At some points, the guide recommended we keep our hands in the water and not on the rocks for risk of spider bites, so we hastily obliged! Despite our best efforts of spider attacks, we did encounter several species - none of which were harmed or harmed our group. Yet another highlight of our Khao Sok adventures!
Top tip: if you hold a cave frog (we are unaware of its genus) on its back and slowly stroke its stomach it will go in trance and be surprisingly cuddly. And yes, you can try this at home, the cave is optional of course (you're welcome).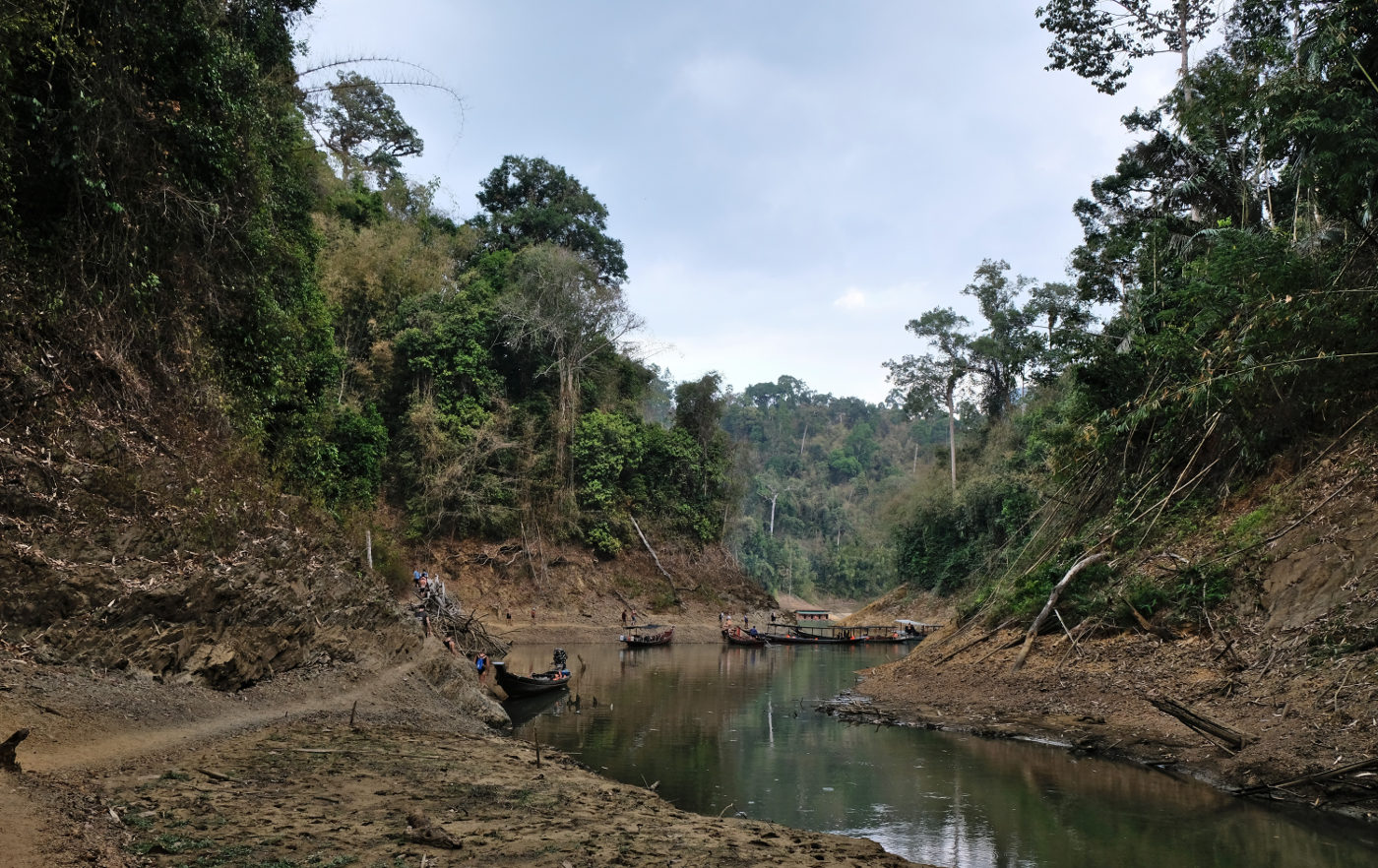 Our longtail boat ride back from the cave hike, brought us dripping back into the village via the return mini-van. Afterwards, we just relaxed and ate - tasty, but it's nowhere near as good as Malaysia (to Simon's dismay we struggled to find anything better than instant coffee). We also had a Thai massage and it is, ehm, painful - Vee got a bruise, which in fairness doesn't say much. It is a mix between a massage and a by-force stretching session whereby the masseuse uses anything he/she can: hands, arms, elbows, feet etc etc. Maybe something to get used to.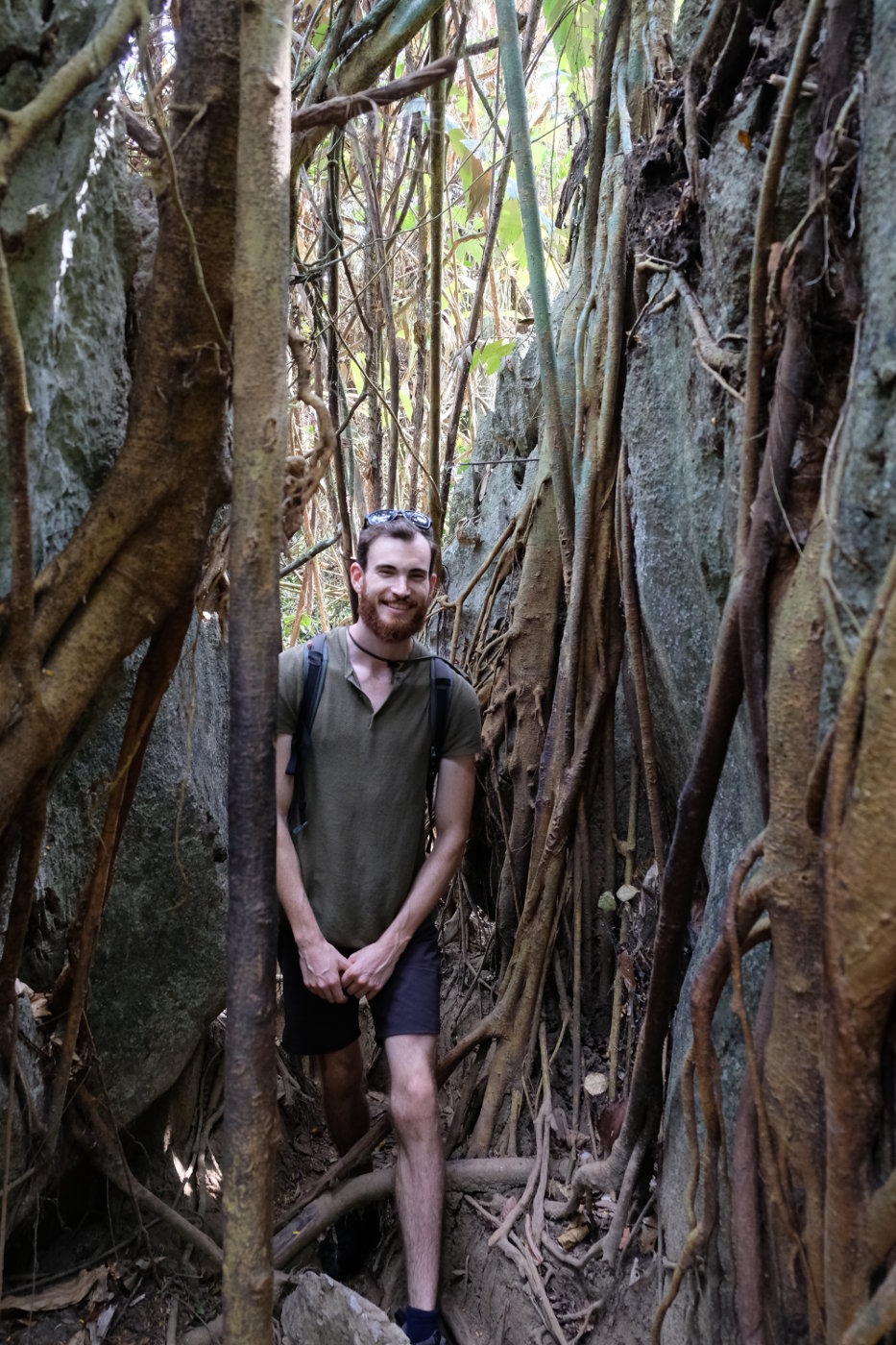 Even though we liked Khao Sok, and it is certainly a sight worth seeing - It further exemplified some of the things we are starting to dislike about Thailand: it makes you feel a bit like a fruit made of money that needs to be squeezed out… Accommodation and transport are still cheap, but the food is at least 3 times the price compared to Malaysia. This is partially due to the tourist menus, where most places have a menu for locals in Thai and a menu for foreigners, the same food but add 30% to 50%. This is fine and dandy to support the thai tourism and economy, but it still feels a little off. The same applied with tours; in Khao Sok National Park a guide is needed if you want to enter more than 3km into the park (almost all waterfalls etc are at 5km or so). So for the previously mentioned tour we were forced to pay 75 NZD per person, but this doesn't include the national park fee (15 NZD pp per day), and doesn't include a docking fee which you weren't informed about (2 NZD pp), and need a toilet? Ah sorry, that is another 10 baht (.50NZD). Want to enter the park again, sorry you have to repay your entrance fee. Of course, compared to most Western countries it is still cheap, and it is good that the Thai are benefiting from the many tourists. All this to say, we miss Malaysia a little bit. Right, rant over - sorry guys!
Next up: Ayutthaya, the next mode of transport: our first night train!