Kuala Lumpur, the capital of Malaysia (something Simon has recently become aware of while on the bus out of KL). It is a place that feels like everything is being built all at the same time, a place where you can never breathe too deep as one moment might smell like amazing food the next will include sewage, and a place where the lobby always looks great, but what is behind it often less so. It was less warm than Singapore, which made it more bearable, but somehow so much more humid, maybe too much information but I'm amazed by how much sweat one person can produce! Like Singapore, it was strangely quiet at the markets and tourist destinations, but at least this time we have a hunch of where they may have been: in traffic.For us, Kuala Lumpur was a place of many firsts. Starting with the first bus ride - finally properly on our overlanding ways! Vee had secured the window seat to soak in the natural Malaysian wilderness, but after 4 hours of looking at palm oil plantations gave up and joined Simon in some napping. Such a shame to see such large areas that should have been rainforest be transformed to produce a product we could do without. Straight out of the bus into our first highway jaywalk sprinting through gaps between cars and scooters with backpacks and all.
Food, food, and more food
That evening we played our first, but definitely not last, Russian roulette - street food edition when we found a tiny outdoor kitchen with a few tables hidden away in Petaling market with not a westerner in sight. The only thing on the menu: laksa, a spicy (keyword!) soup with noodles, chicken, fish balls and/or tofu (we couldn't figure it out), for the mere price of 8 MYR (roughly 3NZD). We also added a side of iced barley water. It was almost everything we were warned about (mainly by the internet): we wouldn't be able to handle the spice and the street food and ice cubes will definitely take our untrained stomachs out. Turned out we won, we didn't get ill, we could handle the spice (sort off), and it was absolutely delicious!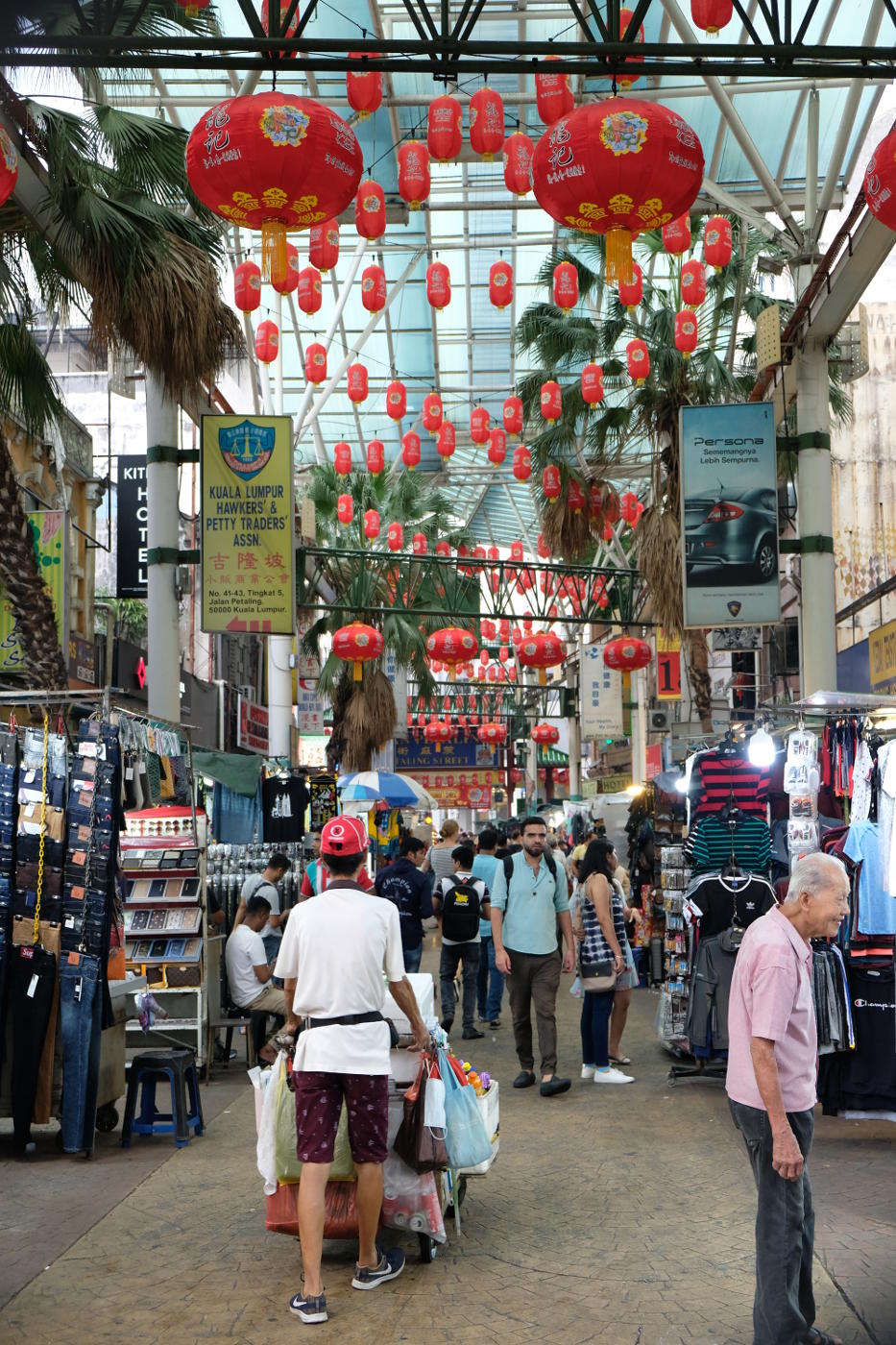 Chinatown in Kuala Lumpur
At risk of this becoming a food blog instead of a travel blog, we also have to talk breakfast. We had our first breakfast noodles and rice (Nasi Lemak), and have since learned that all three meals a day tend to be savoury and usually contain either noodles or rice. Still, something to get used to but tasty nonetheless - though there should be a line before dried sardines! The sweetness comes from the kopi. The Malaysian coffee with condensed milk passes even Simon's snobby Wellington coffee taste buds, meaning it must be really really good! We stumbled upon our favourite kopitiam (coffee shop) on the way to the bus out of KL, again an outdoor kitchen with tables spread through a little alleyway. Great atmosphere, great kopi, great bao, and just the loveliest service! The only thing not so great, Che Cheong Fun, another Malaysian breakfast noodle that takes the fun out of breakfast not by adding sardines but fishballs this time.
Sometimes you get what you paid for
Once again we had a hotel in Chinatown, it is almost like we are trying to compensate for our feared inability to travel through China, or maybe it is just where the cheap hotels are at… And we picked a cheap one! At 6NZD per night per person this was the cheapest one we have booked yet (we booked the first two weeks-ish). Great lobby and nothing wrong with a small little box without window for a room. Alright, mothballs galore, black mould and a neighbour's loud porn are not ideal, but nothing compares to the uncomfortableness of the bed: more springs than mattress leaving a mark on our shoulders - surely the WiFi name of "goldbricksbed" is a staff inside joke!?
Touring our climbing bag around the Batu caves
Our main tourist activity, other than strolling markets, visiting KL's old colonial centre and eating food (of course), was visiting the Batu Caves on the edges of KL. Located in the limestone hill they are a series of caves and Hindi temples. The most famous of the caves is the Temple cave (or upper cave, for obvious reasons), a large cave accessed by 272 coloured steps past the large golden statue of Kartikeya, the God of War. Plenty of cheeky monkeys, roosters and pigeons sit on the peacock statues or wander between the tourists and worshippers. We made the mistake to also enter a paid for cave full of Hindi statues, coloured walls and some sad animals in cages - we wish we had left it at the just the temple cave.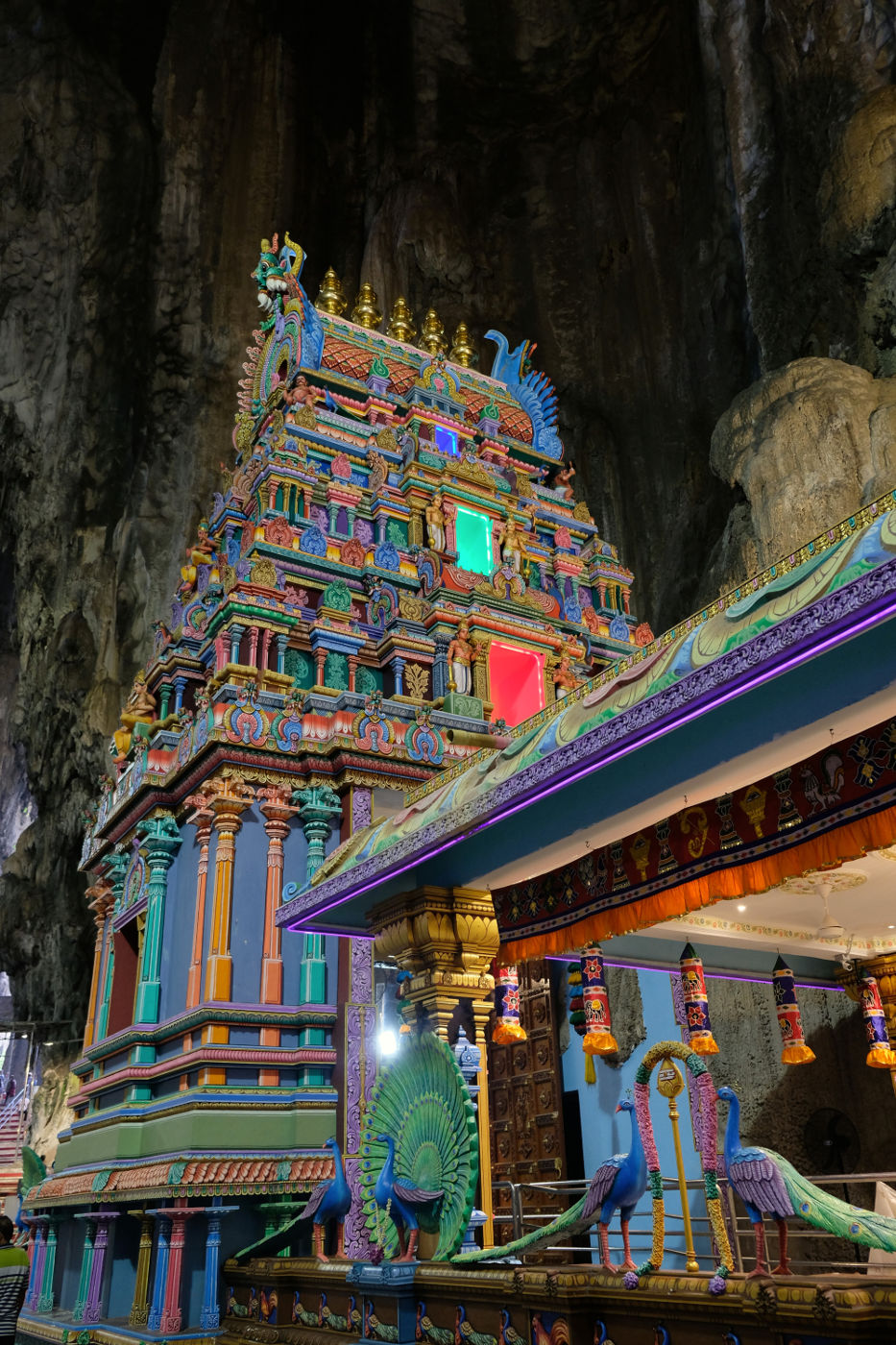 Batu Caves
Due to a last minute discovery that there was rock climbing near the batu caves (+/- 170 bolted routes), we optimistically brought our climbing gear along, all 14 kgs of it came on the train, through the tourist shops, up the stairs, through the caves and all those things back again. After experiencing 12pm heat (it is hot!) and facing the traffic to get to the area by taxi with no idea of how to come back, we abandoned mission. Lessons learned for climbing in the future: start at 8am finish soon after. At least the bag got to see some interesting sights!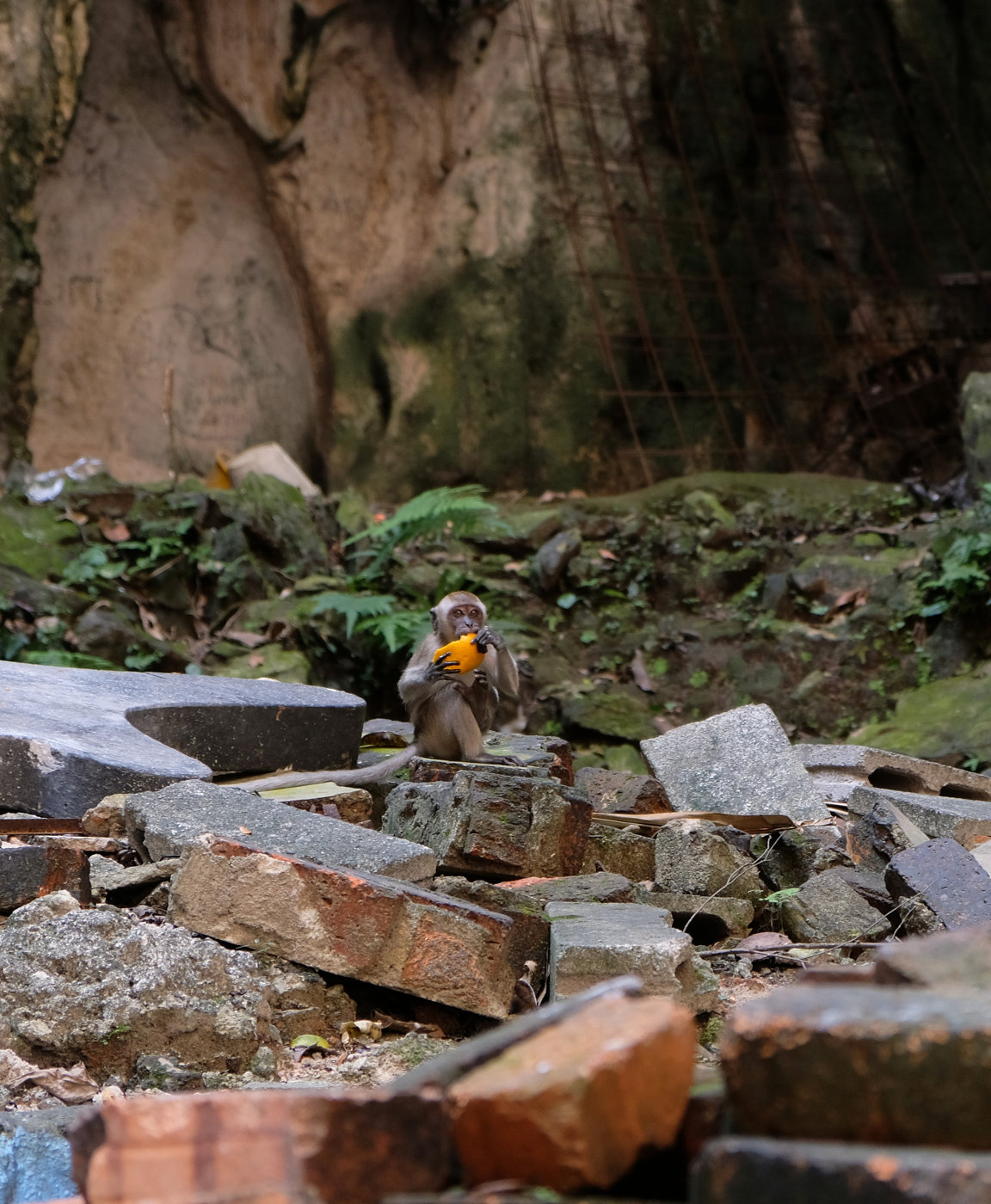 Next step: Cameron Highlands for some nature and cooler temperatures. Next mode of transport: the bus.