Ah the Mae Hong Son Loop, a part of the trip we had both really been looking forward to was finally here! At the minimum, the loop covers 600 kilometres, but with many optional side trips, we easily hit 850 km (of which Simon drove ~800 and Vee ~50). Going through national parks, small villages, towns, and the Thai countryside on a motorbike was right up our alley. The term motorbike is used lightly here as we picked up a 125cc scooter to be our noble steed for the both us, at a reasonable 250 baht a day. We decided on one scooter instead of two, partially for cost but mostly because with over 4000 turns and a massive climb in elevation the route is not for beginners and well, despite some much-needed practice in Koh Lanta, Vee is just that… So we left the backpacks at the hotel and squeezed some essentials in our smaller bag - off we go!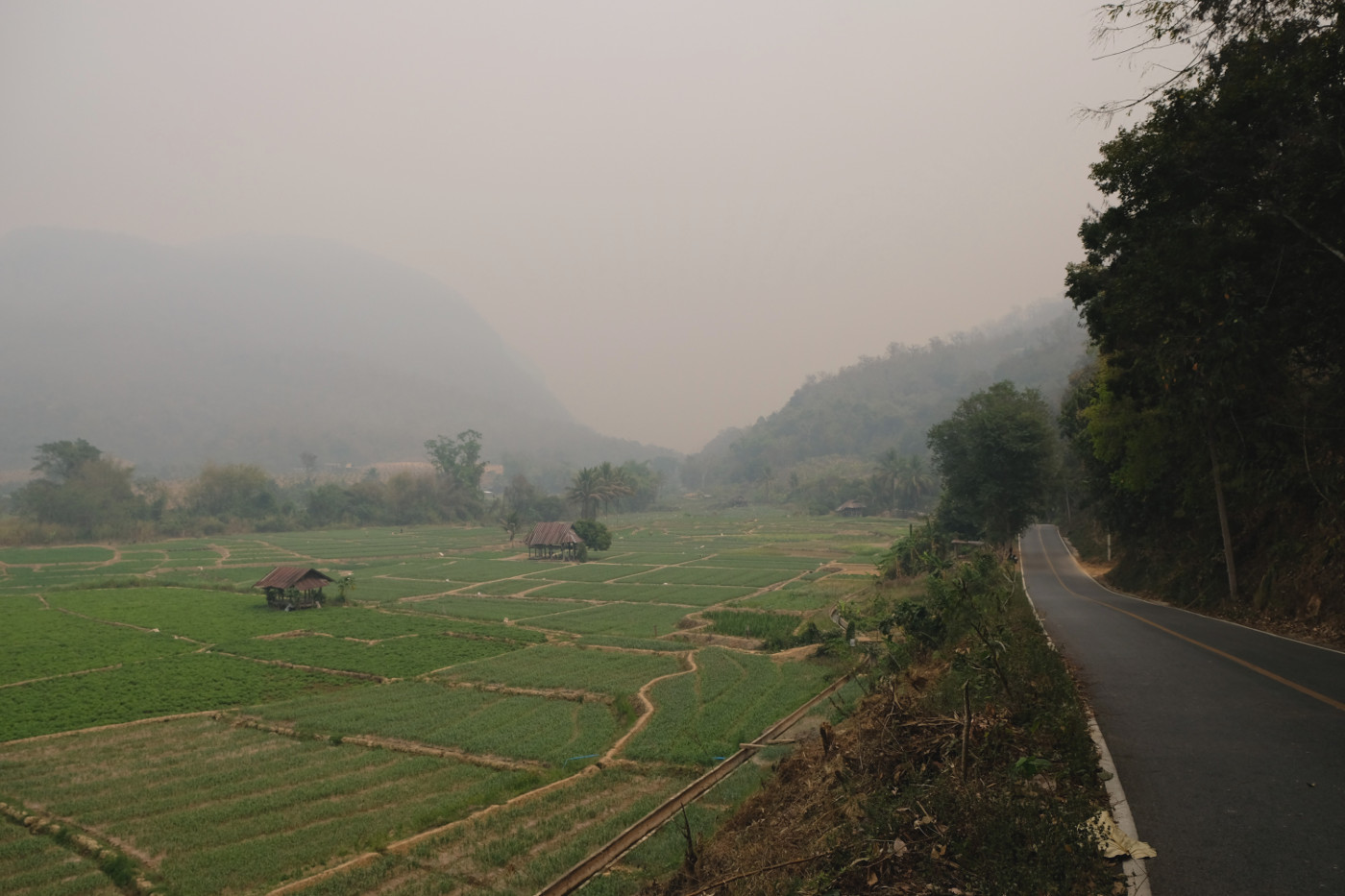 We started (and ended, it is a loop after all) in Chiang Mai, a city we were prepared to hate but ended up liking quite a bit. Despite being the second-largest city in Thailand, after Bangkok, it had a certain calmness about it. Cute little streets, lots of beautiful wats (temples), an old city wall around the centre square, historical pagodas like we saw in Ayutthaya, and plenty of cafés and restaurants. It is a little bit too centred to tourists, but much less so than the south of Thailand. Gone are the tourist menus, replaced with proper coffee and bowls of noodles. It is good that we decided to stay the night, even if it was only to recover from the two consecutive night trains.
Although the loop can be done in 4 days, we decided to take it easy and allocated 6 days (5 nights) to really make the most of it. We decided on going clockwise, despite most online guides going counter-clockwise, so we would start with slightly easier roads and end in the relaxed city of Pai.
Day 1: Chiang Mai to Ban Mae Pan
We started pretty relaxed only having rented our scooter at midday (with its return being the same time of day) we thought it would allow us an extra morning. This turned out to be a mistake, definitely leave as early as you can! We rented ours from Mr Mechanics about whom we had read some good things online and seemed to offer a pretty solid insurance. At no point did anyone check or even mention a driving licence though… and even the question "do you know how to use one?" only came up at the time of departure.
You know who does check licences: the police. And they pulled us over at a lovely tourist checkpoint within 10 minutes of leaving. Simon's full motorbike licence didn't impress them (we had half expected as much, you need either a Thai or an international licence), so 500 baht (25 NZD) later we were back on the road. This time with a fancy piece of paper that states that "Mr Simon" has already been fined and is now off the hook for the next 3 days. A tourist tax for sure! They were all very nice about it though, it is just the way it goes.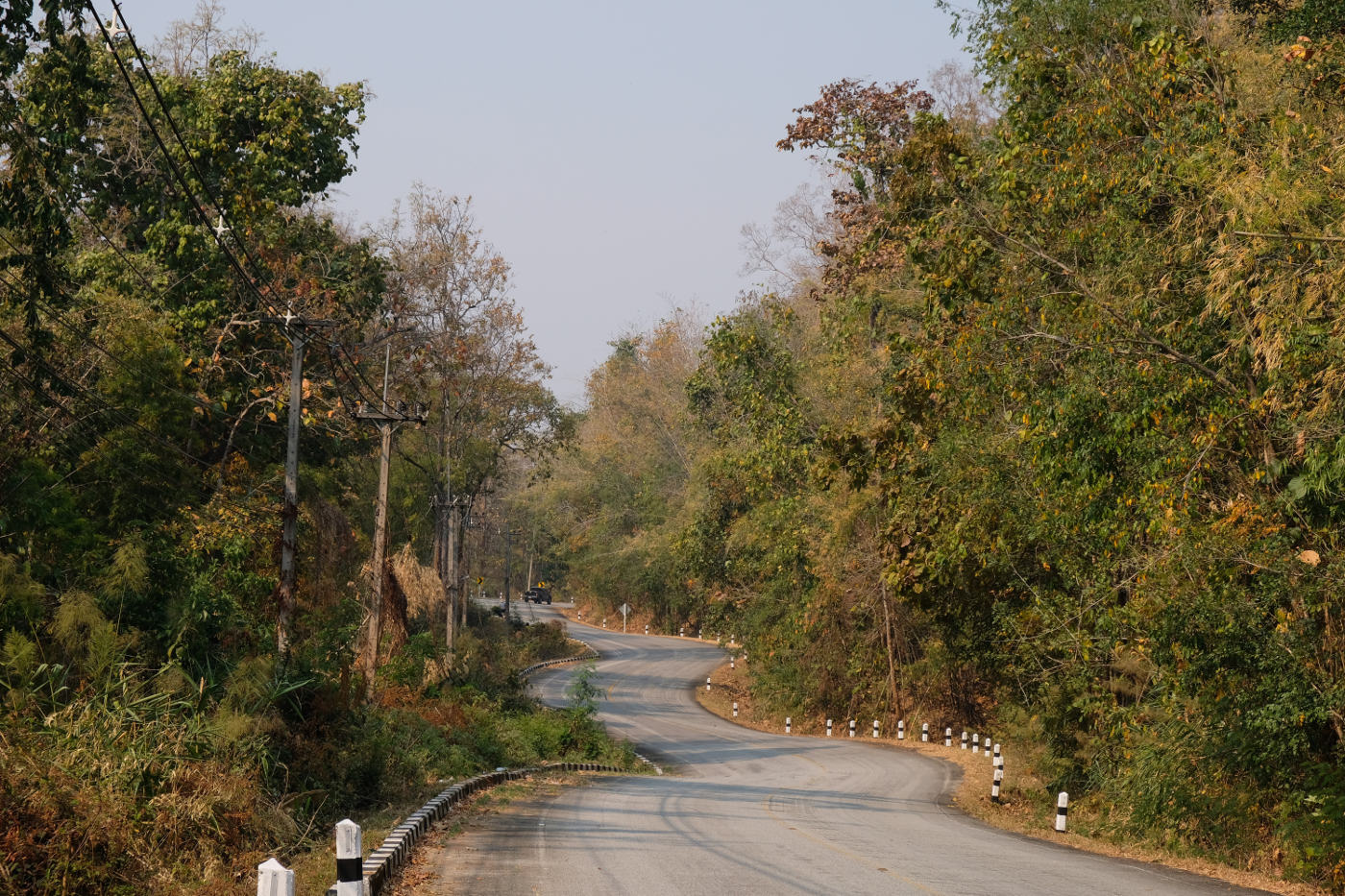 Now finally on the way, the first 80km or so were not our favourites. Although nothing like Kuala Lumpur, the busy highways of Chiang Mai do not really ease you into the journey. Luckily Simon was driving and even managed to tag along the 80km per hour speed limit for a little while. Not bad for the overpacked little scoot! About 1.5 hours in we stopped at a little cafe, all signs of English menus gone. But a lovely lady came over: "we have noodle", she said. "Perfect!" we replied. Soon enough, we had a delicious noodle soup with chicken and a coffee, and couldn't be happier. This became our daily ritual in the countryside later in the tour where fewer people spoke any English and most places only offered their version of noodle soup. Once a surprised host yelled out for assistance, a younger woman would run from a nearby field to help out understanding us. All in all, these little noodle place interactions were one of our favourite things! The food in the North has been much better (and cheaper) than in the south of Thailand.
Now the fun really began! Up the scenic route to Doi Inthanon National Park, which surrounds the highest mountain in Thailand and one of the many detours. The road was stunning, beautiful curves and hills through the jungle mixed with pine trees and fruit plantations, all experienced in a lovely cool temperature (even down to sweater weather!), accompanied by gorgeous autumn colours. The little beast (AKA. our scooter) did struggle though, slowing down to just 20 km per hour at the steeper sections.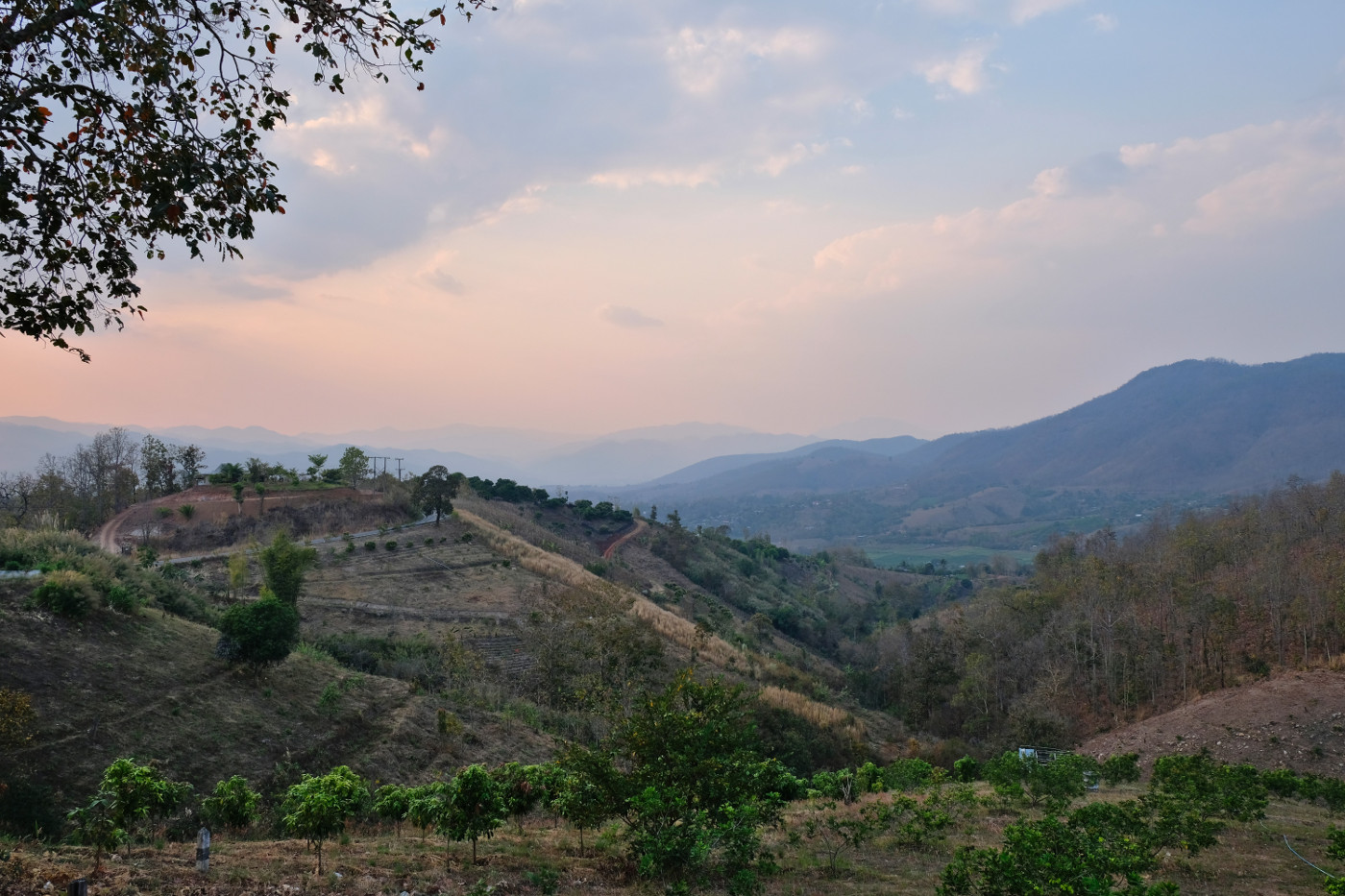 Viewpoint near Ban Mae Pan
For our accommodation we stayed in a small homestay offering several tents just outside a small, but very picturesque village called Ban Mae Pan. Luckily, as there were no other guests we were upgraded to an open bamboo hut, with a great view!
Day 2: Ban Mae Pan to Mae Sariang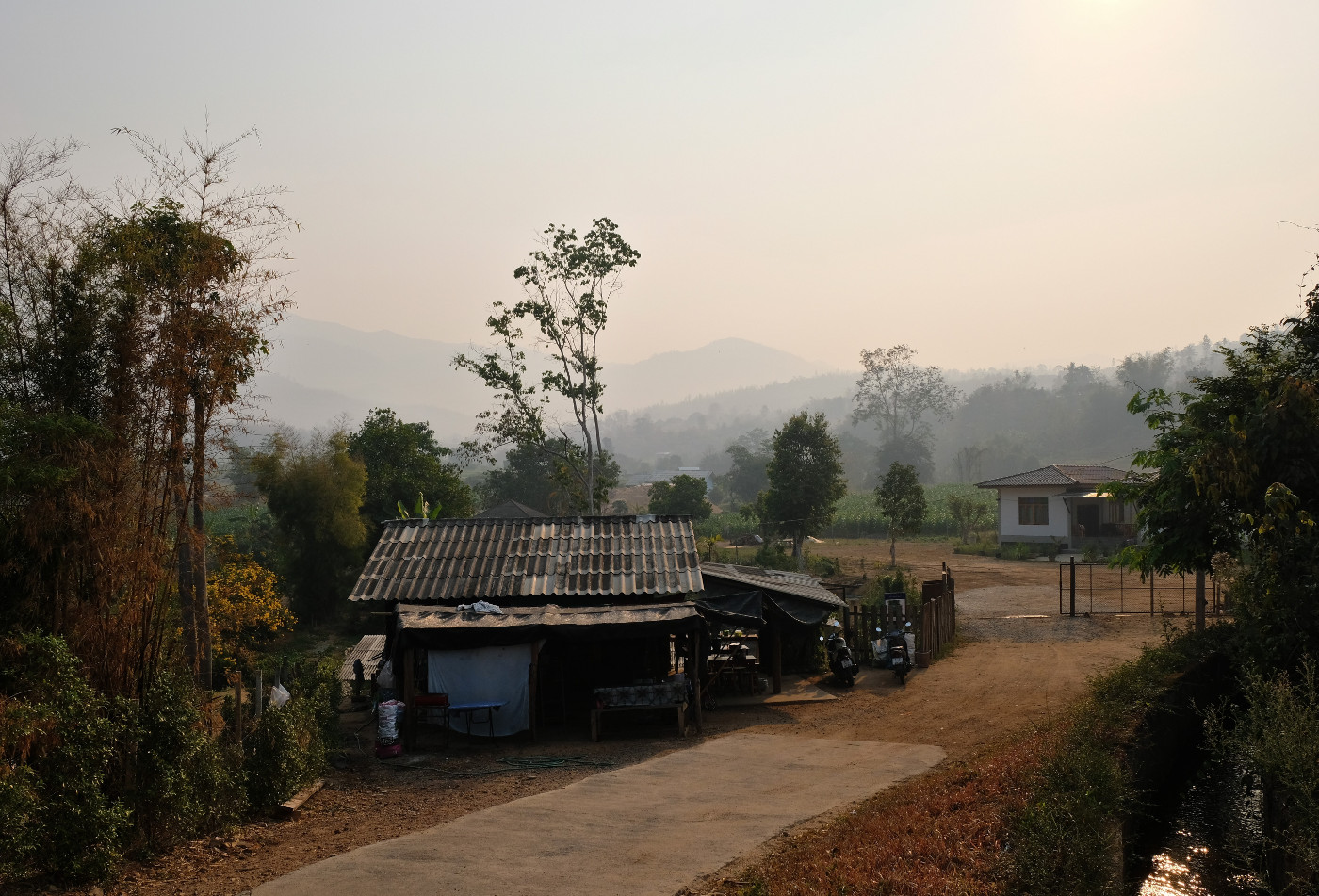 Early morning breakfast noodles
After a customary bowl of mystery noodles, we left early-ish. We had woken early with the sound of the daily local news update which is broadcasted through megaphone quality speakers throughout the town. Okay, here our lazy morning from the previous day bit us in the butt a bit… the day before we had arrived too late to go up to the top of the mountain, so we decided to backtrack 20km to make it in the morning. 20 km doesn't sound like that much, except it was all uphill with hairpin type corners - beautiful, but difficult and a bit much for ye ole' scoot. This ended up being the most difficult road of the whole loop and we didn't do it once, or twice, but three times (once up, and twice down)! Strangely enough, coming from this direction saved us a 300 baht entry fee to the national park as we passed the following day towards Mae Chaem for our accommodation, so that is a small victory.
The top of the mountain is famous for its cloud forest - picture mist and mossy forests, as well as two pagodas. There seems to be a rule or obligation in Thailand that every summit needs a wat or a pagoda and the highest mountain was no exception. We strolled around for a bit before setting out once again - We still had around 150 km to go today!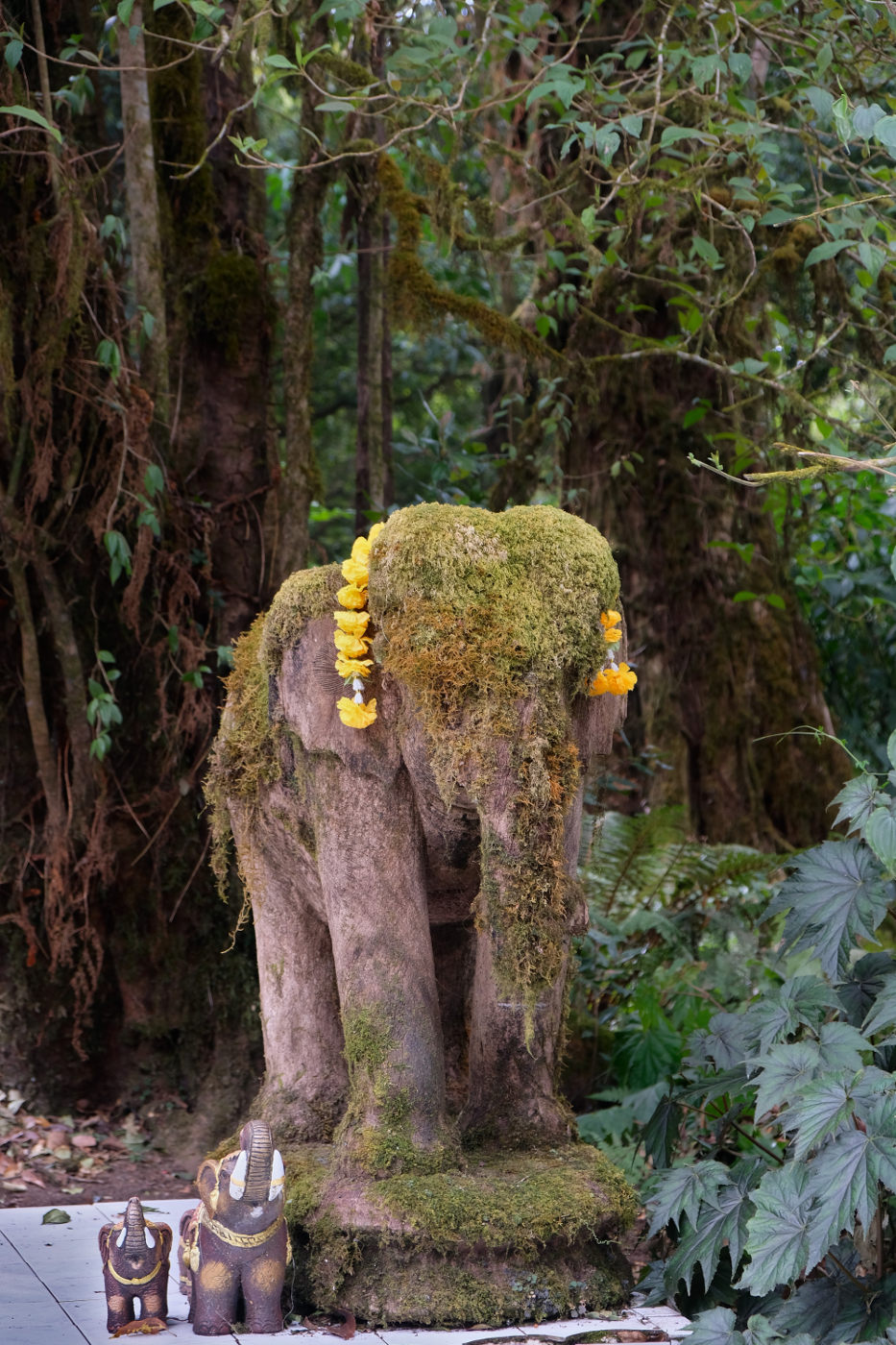 Once down the mountain once more, we stopped for a coffee in Mae Chaem. In the middle of nowhere (sorry Mae Chaem), you can still find good quality cafés. Our host spoke excellent English and recommended a place to eat a local dish. Move over Malaysia, Thailand has provided our new favourite dish: Khao Soi! Still firmly in the noodle soup variety, Khao Soi is a yellow curry soup with noodles and chicken with crispy noodles on top. It has many variants, though we still think this was probably the best recipe to date - So good!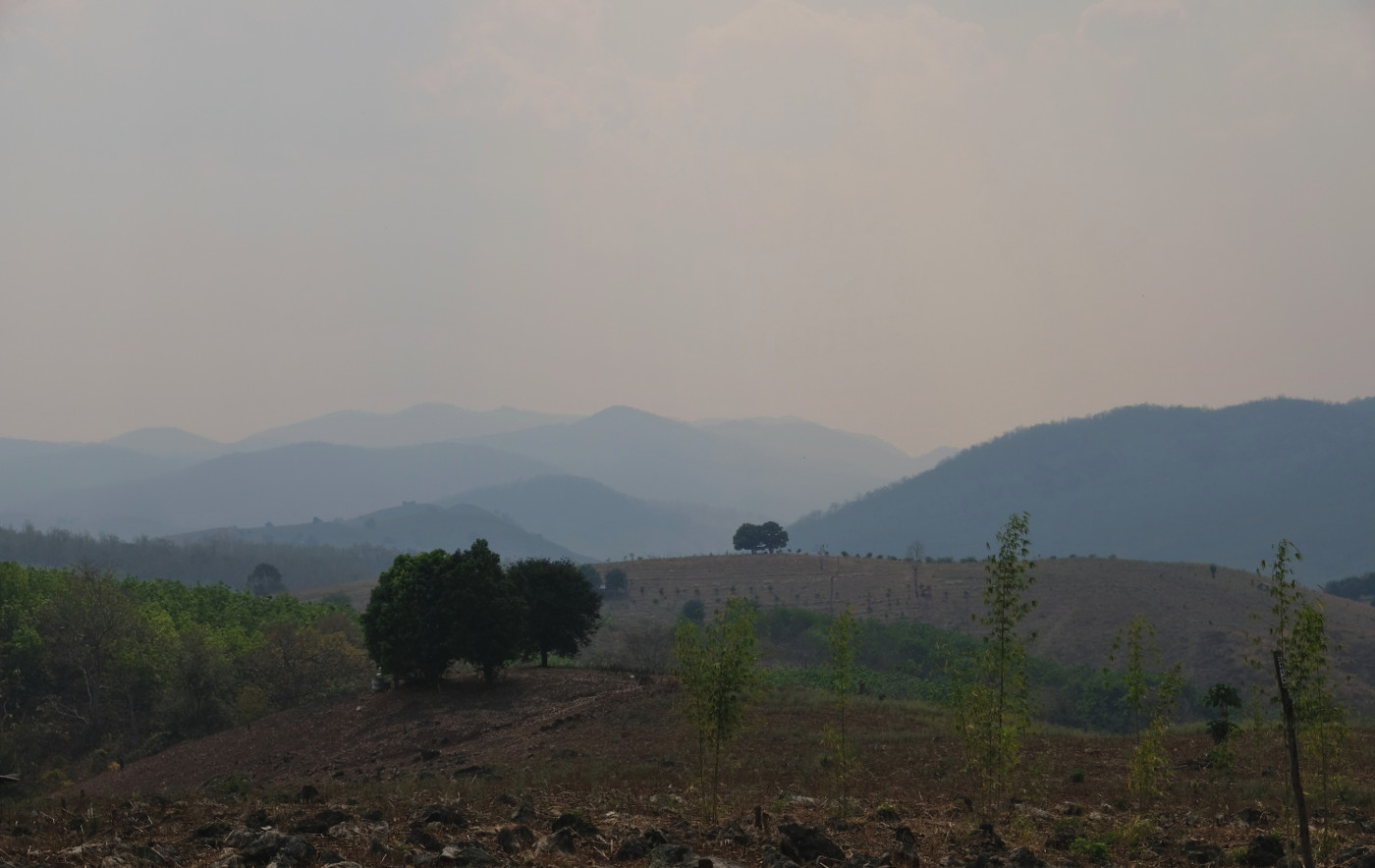 That night we stayed in the sleepy town of Mae Sariang. We booked a very last minute hotel with a lady who spoke not a word of English but armed with a translation app managed amazingly well. For dinner we visited the local night market to try some questionables: rice cooked in a bamboo segment and more mystery meat and mushroom sticks - we discovered: it all comes in some stick form.
Day 3: Mae Sariang to Mae Hong Son
The next day was pretty straightforward, without any major detours. We drove through more forest, past some beautiful farmland and over some hills and stopped for a small coffee and clearly more noodle places.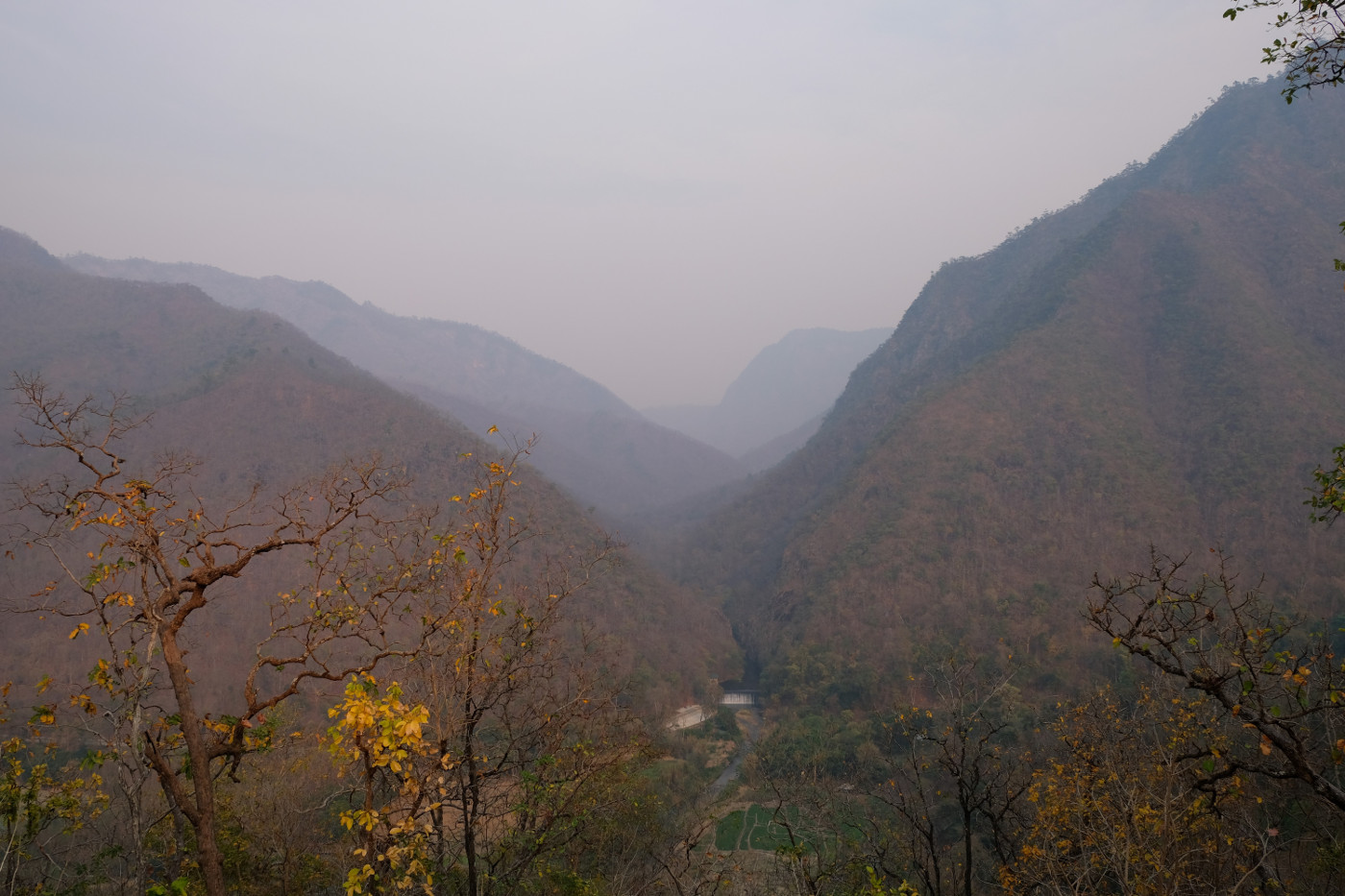 Maybe this is a good time to explain a little bit about the time of year. It being February, we are in the offseason - despite it being winter and dry season, it looks fairly autumnal, with lots of falling leaves (which on occasion hit you on the head at terminal scooting speed), half barren trees and lack of overall greenness. We had no rain but constant mist and smoke, the latter due to the many small fires alongside the road. People were burning the fallen leaves and undergrowth for who knows what reason - we heard many varying reasons: anything from trying to find mushrooms to trying to prevent bigger fires starting later on. We also heard it is illegal, but at the same time there were official-looking signs showing otherwise. We also sadly missed the lush rice paddies this area is famous for because of the season. Instead, they were filled with cows, garlic and cabbage, oh so many cabbages! We liked the offseason though: no rain, nice and cool, beautiful colours and hardly any other tourists!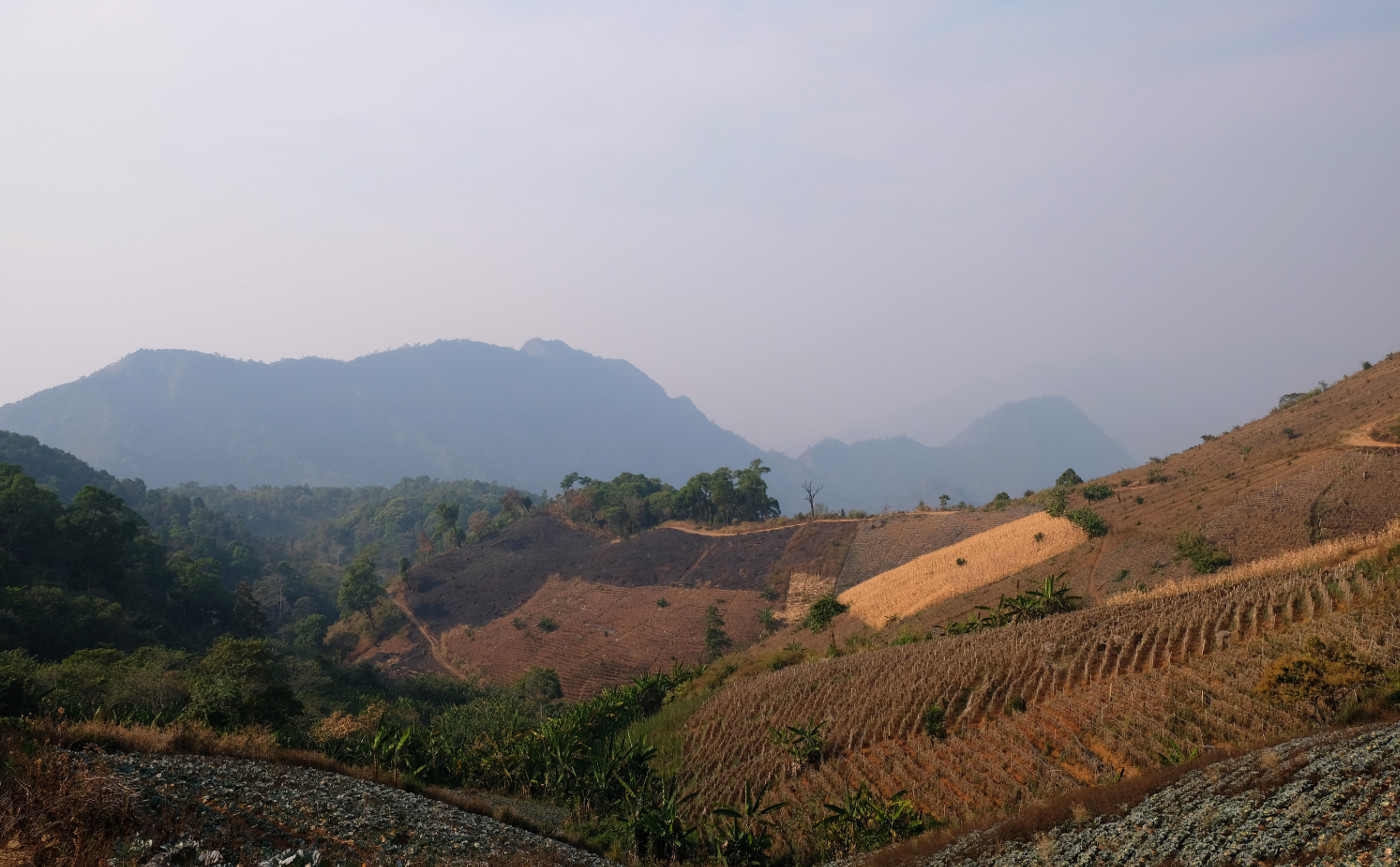 Fields near H'mong Microwave Village
We only did one detour today, another ascent this time up to Ban Microwave (also known as H'mong Microwave), but we wish we hadn't. The drive there was a fun challenge, partially unpaved and very steep, and the surrounding area stunning. But we didn't feel welcome. There was no way to support the Ban, be it shop or café. Some villagers completely ignored us when we tried to say hi and others just kept pointing for us to continue up the final summit of the hill (we followed their directions, but couldn't find what they were trying to point us to, it's summit was surprise-surprise a microwave tower). Upon reflection, it is understandable, these villagers probably never asked to be included in a guidebook. Some smiling and waving kids made up for a lot.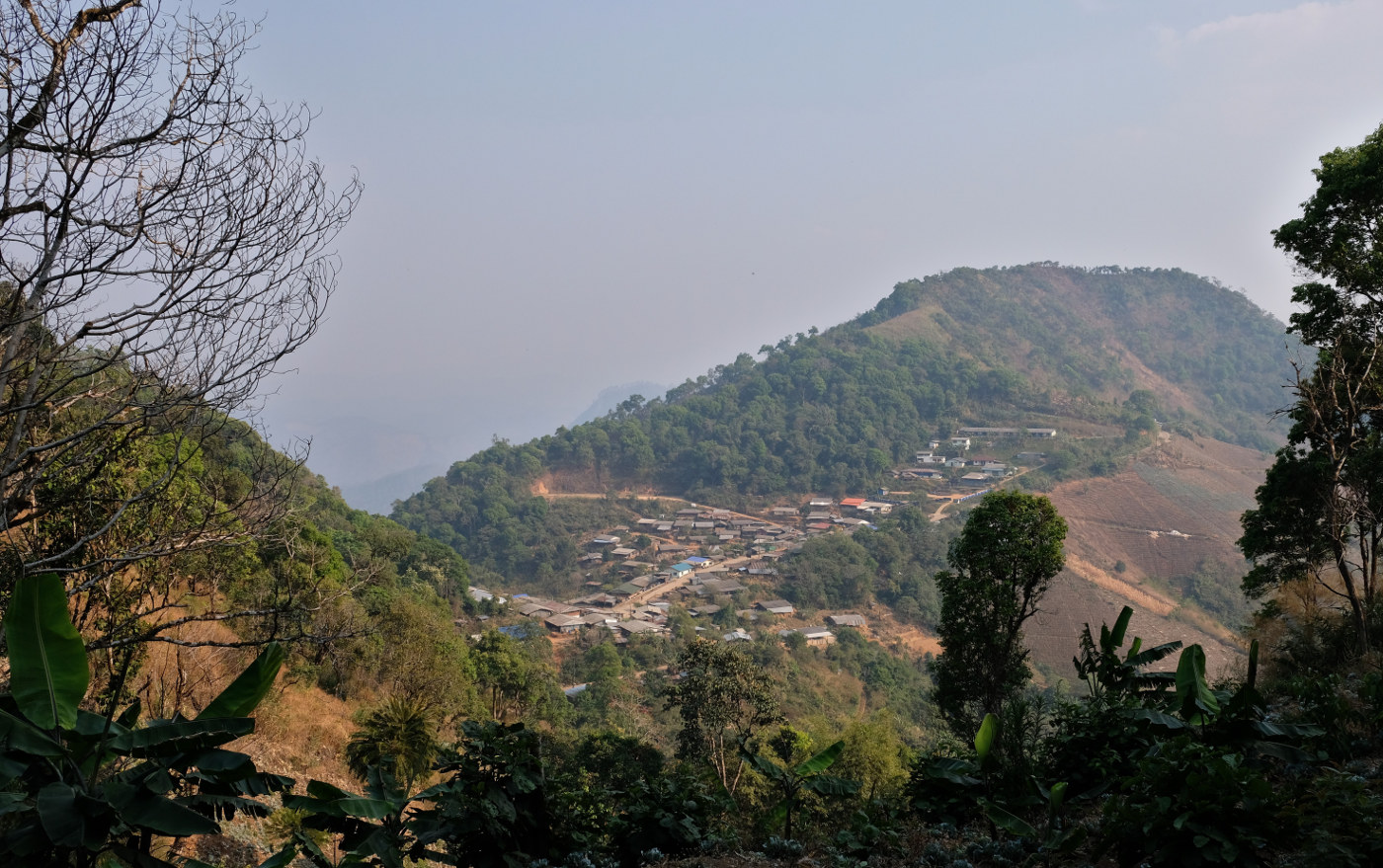 View from Microwave Tower of H'mong Microwave Village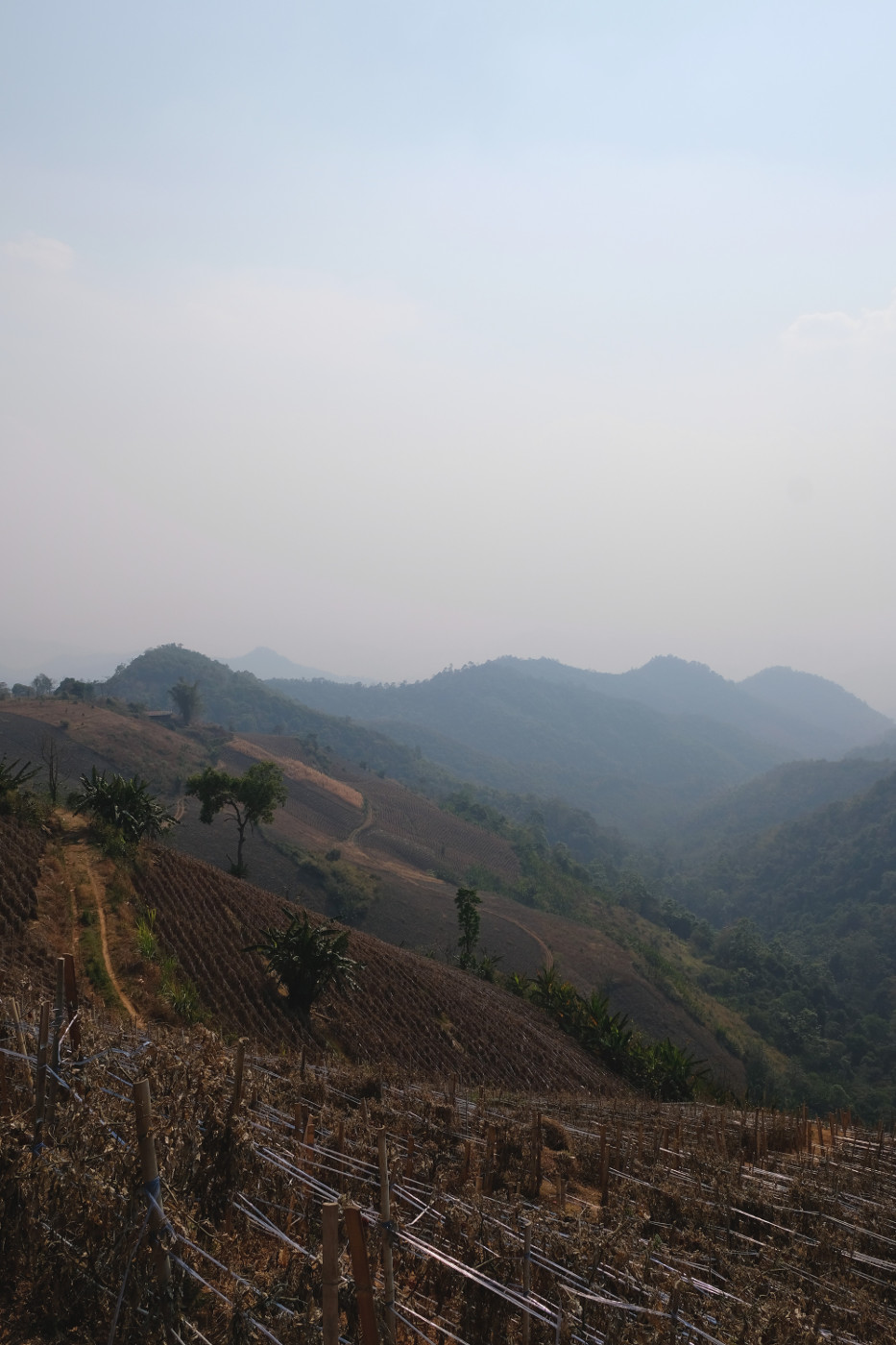 We descended from the village, only pausing once to cool our mighty scooter breaks, and continued driving to Mae Hong Son, the largest city on the trip (and the region's capital, and those readers observant - the name of the loop). Upon arrival, we climbed many stairs to one of the many local Wats, and for dinner enjoyed some more Khao Soi - Simon didn't stop eating this dish until long into Laos, but that's for another story!
Day 4: Mae Hong Son to Pai
Back on the road again, the bums are getting pretty sore by this point! Nonetheless, we decided to do another optional detour to Ban Rak Thai, a small village at the Myanmar border. The name literally translates to Thai-loving village and is made up mainly by ethnically Chinese people from the Yunnan region. With things being the way they are (Coronavirus likely means we won't be going through China), this may be the closest we get to experience some Chinese culture.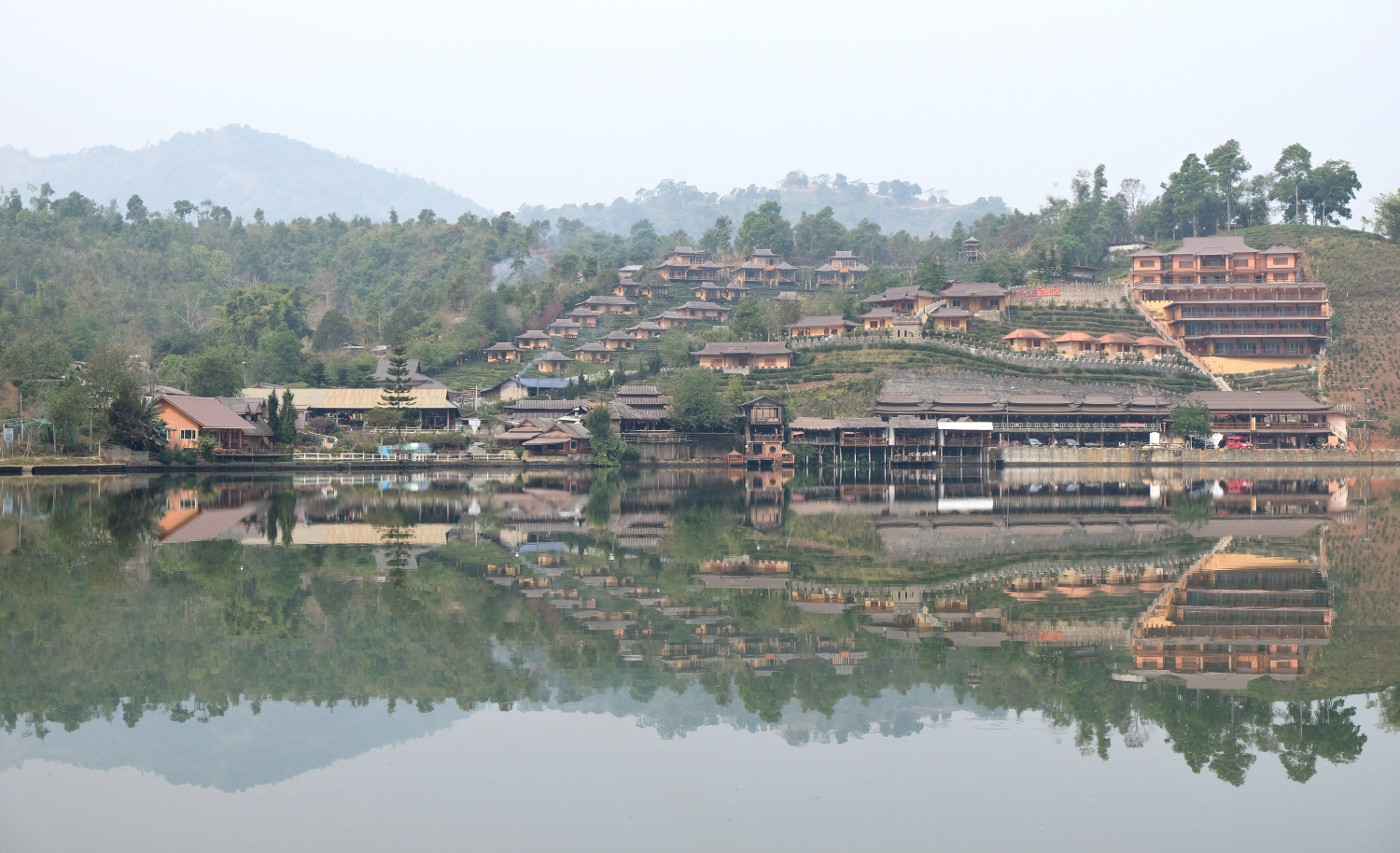 View from Cafe over lake of Ban Rak Thai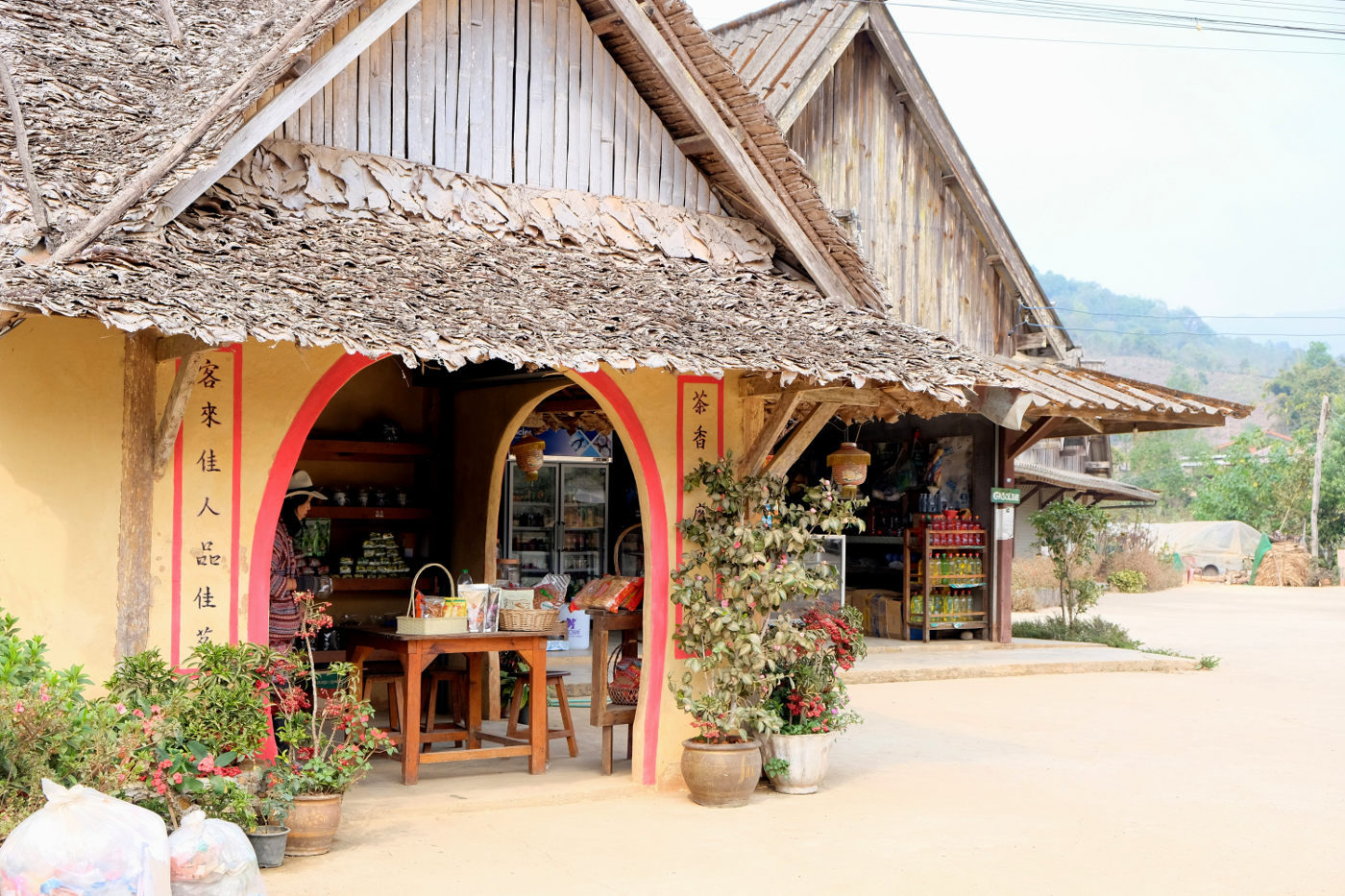 One of the many Tea Shops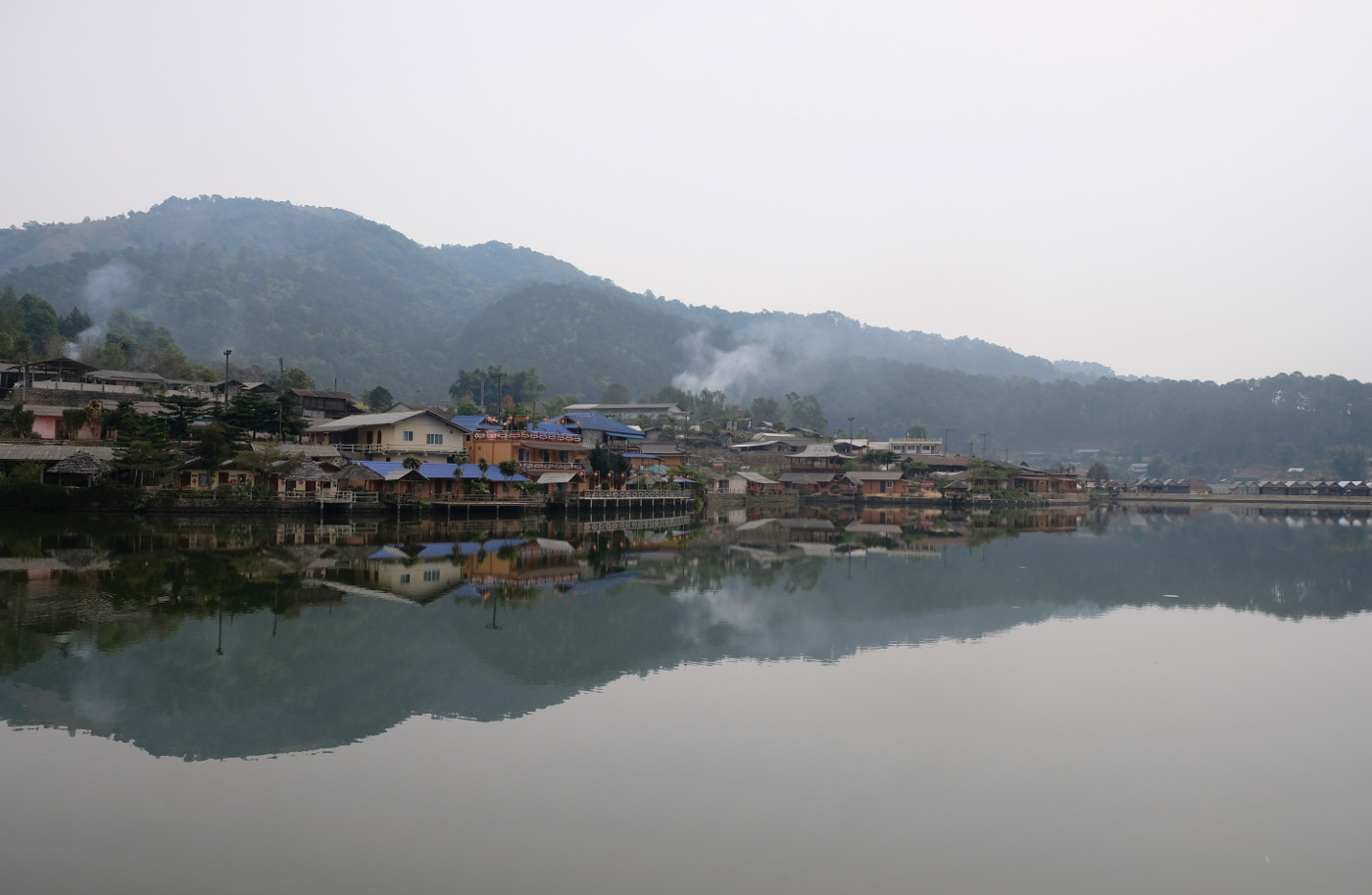 Ban Rak Thai in all it's majestic glory
This was our favourite detour, the road in and out provided plenty of cute villages, cabbage viewpoints and steep twists and turns. The village itself was surrounded by small tea plantations and had one of the most picturesque Chinese architecture surrounding a pristine mirrored lake. We stopped by a cafe of sorts and ordered a coffee, but also received a bowl of candied nuts and two teas, a "morning tea" and a ginseng tea. This lovely hospitality continued over to lunch, though instead of nuts we sampled some candied fruits (though the candied cherry-tomato led to some interesting facial expressions). Ban Rak Thai offered lovely views and hospitality, but we couldn't help thinking that it was certainly a down period for tourism, we are certainly pleased we made this detour!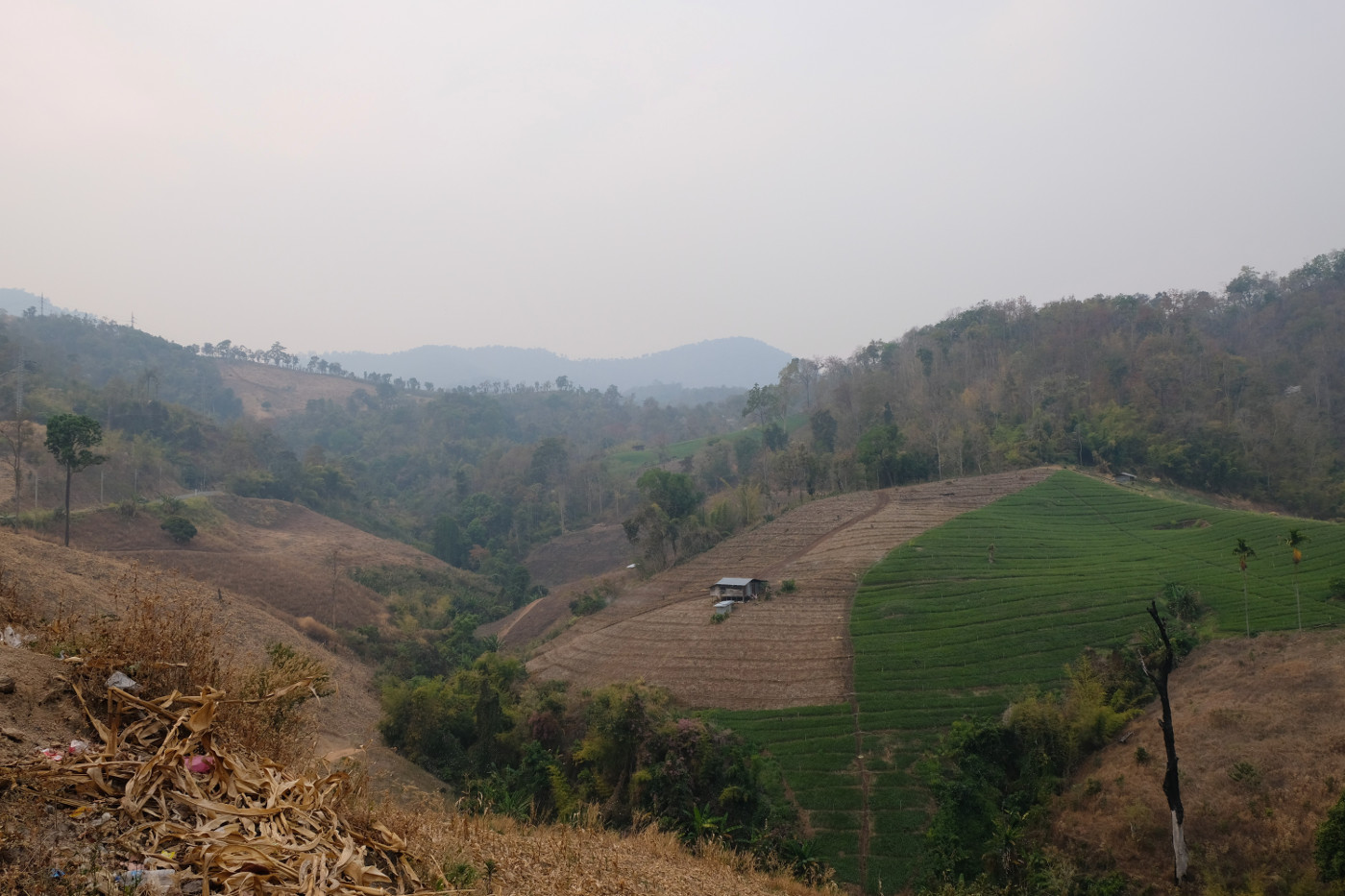 The road to Pai
Back on the road to Pai it was particularly misty and followed the same pattern of stunning viewpoints, hairpin roads and autumn leaves (in varying states of smoking or ablaze). Vee did her largest leg of driving here and as long as it was uphill she even enjoyed herself in the perfect marriage between her top speed and the scoots top speed (downhill is a different story, with much preventative breaking and hesitant sweaty throttle hand repositionings).
Day 5: Pai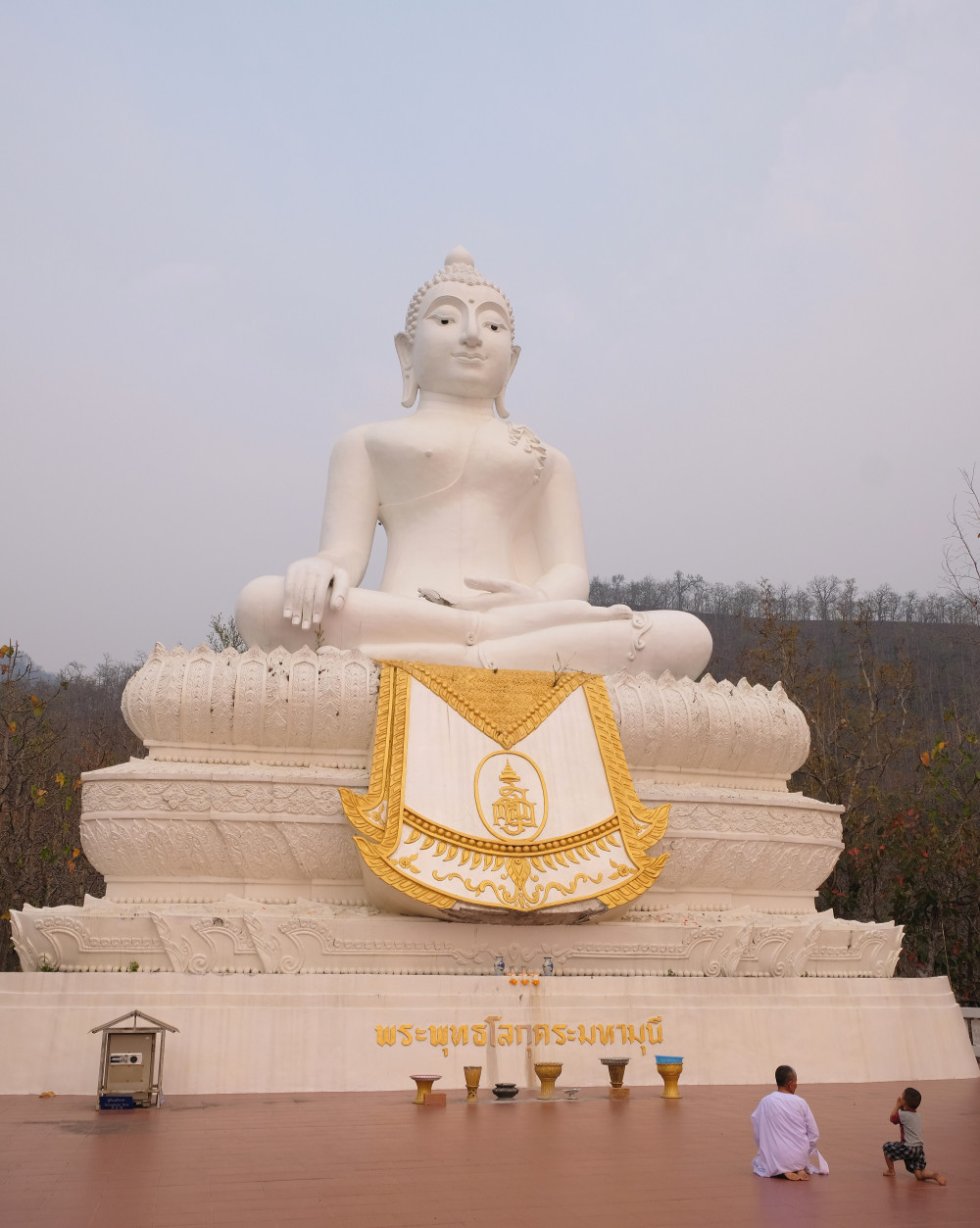 After many days of sore butts and some enduring stomach problems experienced by both (though each very differently), we decided on a rest day. Once a hippy hideaway, Pai now caters to all types of tourists with many bars, shops, restaurants and activities. Although it was in stark contrast with the authentic local experiences of the trip so far, we enjoyed ourselves.
In a delayed celebration of Vee's birthday, we joined a cooking school and learned to make some local dishes. Although Khao Soi was not an option, we can now make a mean green and yellow curry - by far the best curries we have ever made!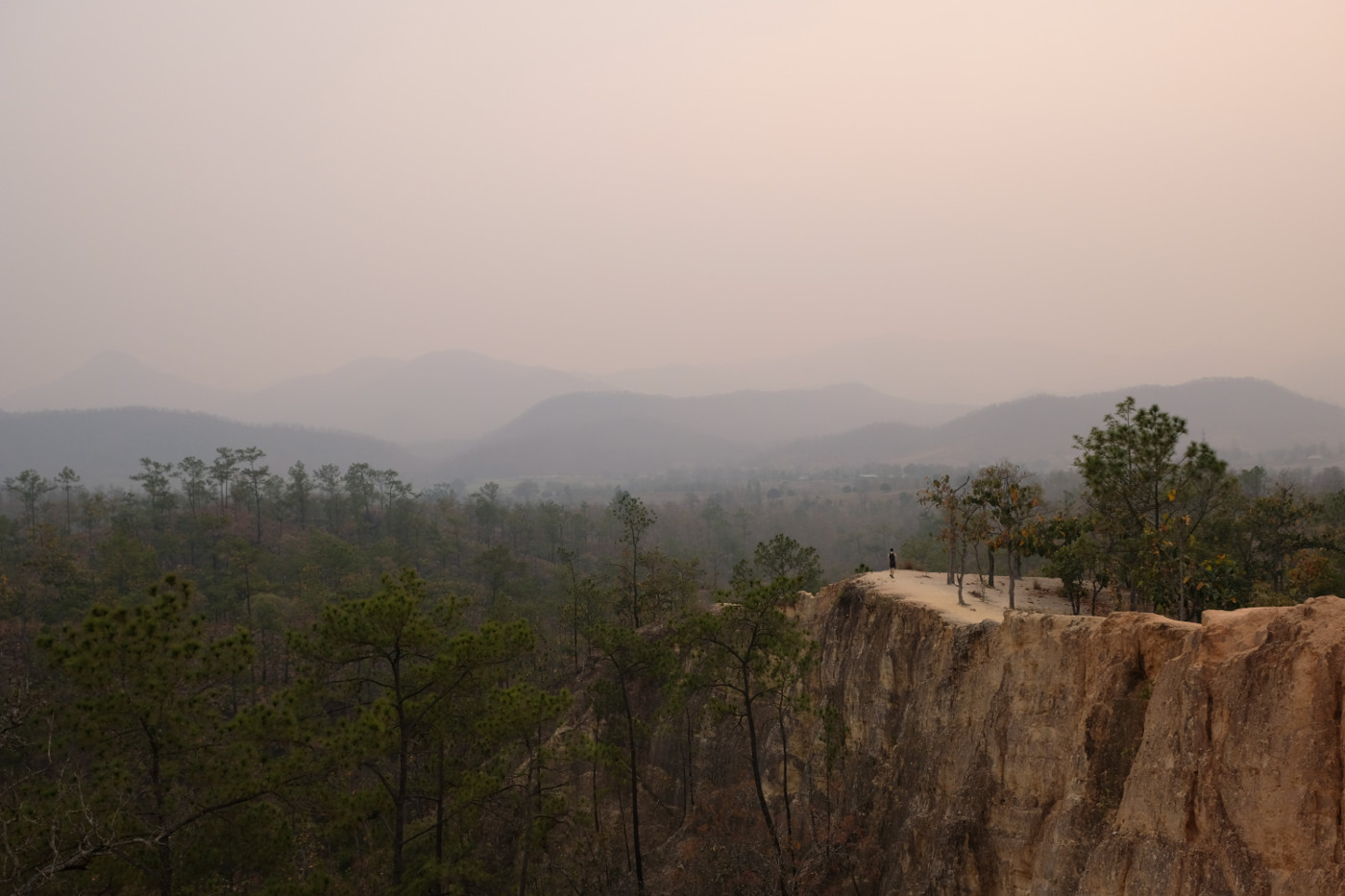 Simon waltzing lankily around Pai Canyon
In the afternoon, we strolled around the Pai Canyon - a small but pretty Canyon, to take some photos of the sunset (but sadly the mist was too thick for a full glow). Other than this, we ate some delicious food, saw some live music, relaxed in our bamboo bungalow, and strolled the night market (we are now the proud owner of an impractically large but lovely blanket, hand weaved from Mae Hong Son).
Day 6: Pai to Chiang Mai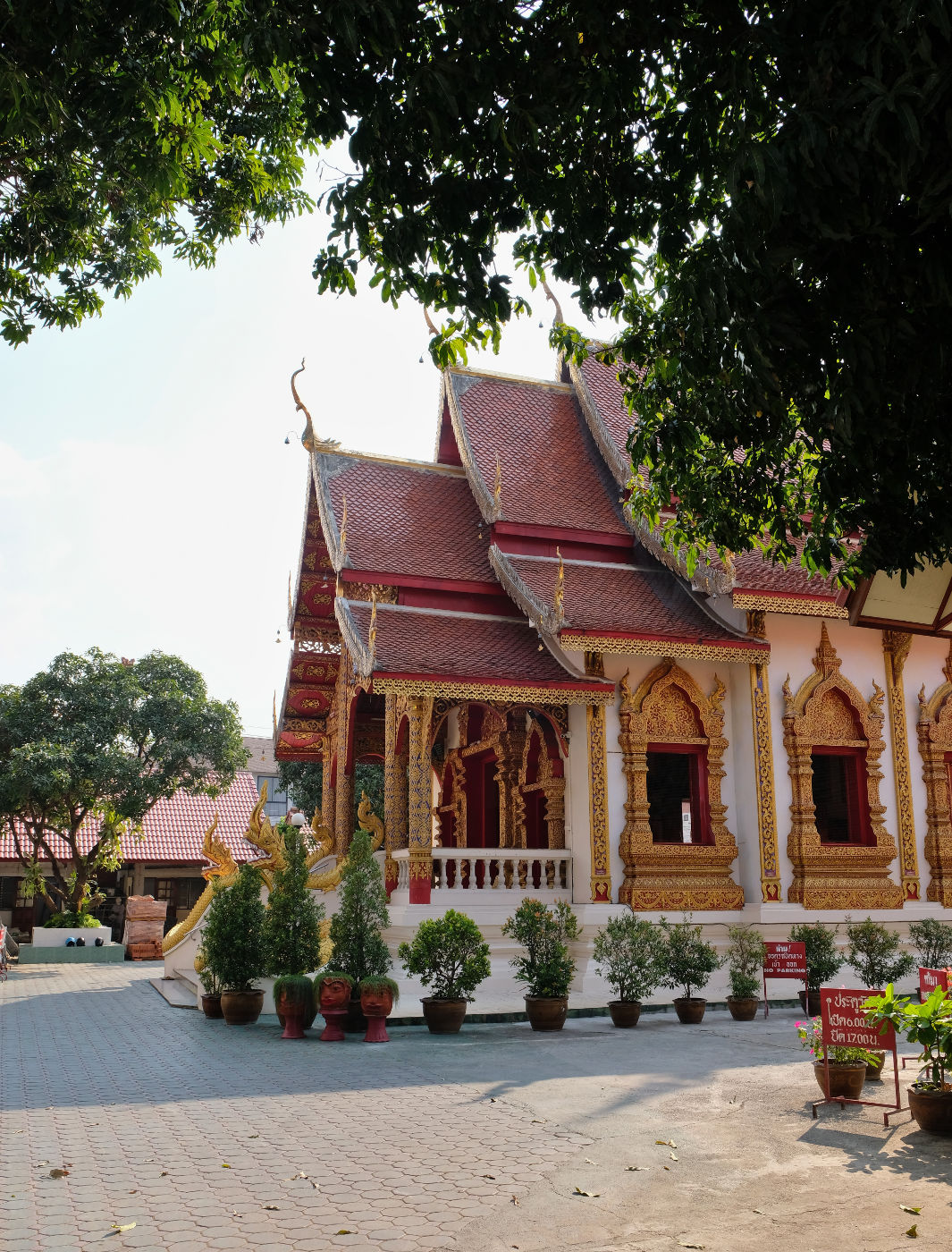 The last day of the trip already, it really flew by! We decided against any optional detours on this leg, so it was a little bit boring. It is a real shame that this is the only drive most people experience, going back and forth between Pai and Chiang Mai, as it was our least favourite section. The first half provided the usual gloriously white-knuckling road, but the second was just a big highway - as you can imagine, getting into Chiang Mai was about as bad as getting out of Chiang Mai. The highways are filled with other not-as-predictably-law-abiding scooters, and aggressive trucks, that aside we made it back in one piece!
Some final remarks on the trip:
We are so happy that we took the time to do 6 days of our pretty hectic schedule to do this loop properly. We definitely needed all 6 days, as the optional detours were the highlight of our trip - the mere 4-day route would mainly give you a lot of highways. Although Vee is happy she didn't drive the whole way, the roads were mostly very good and the drivers were very patient and kept their distance.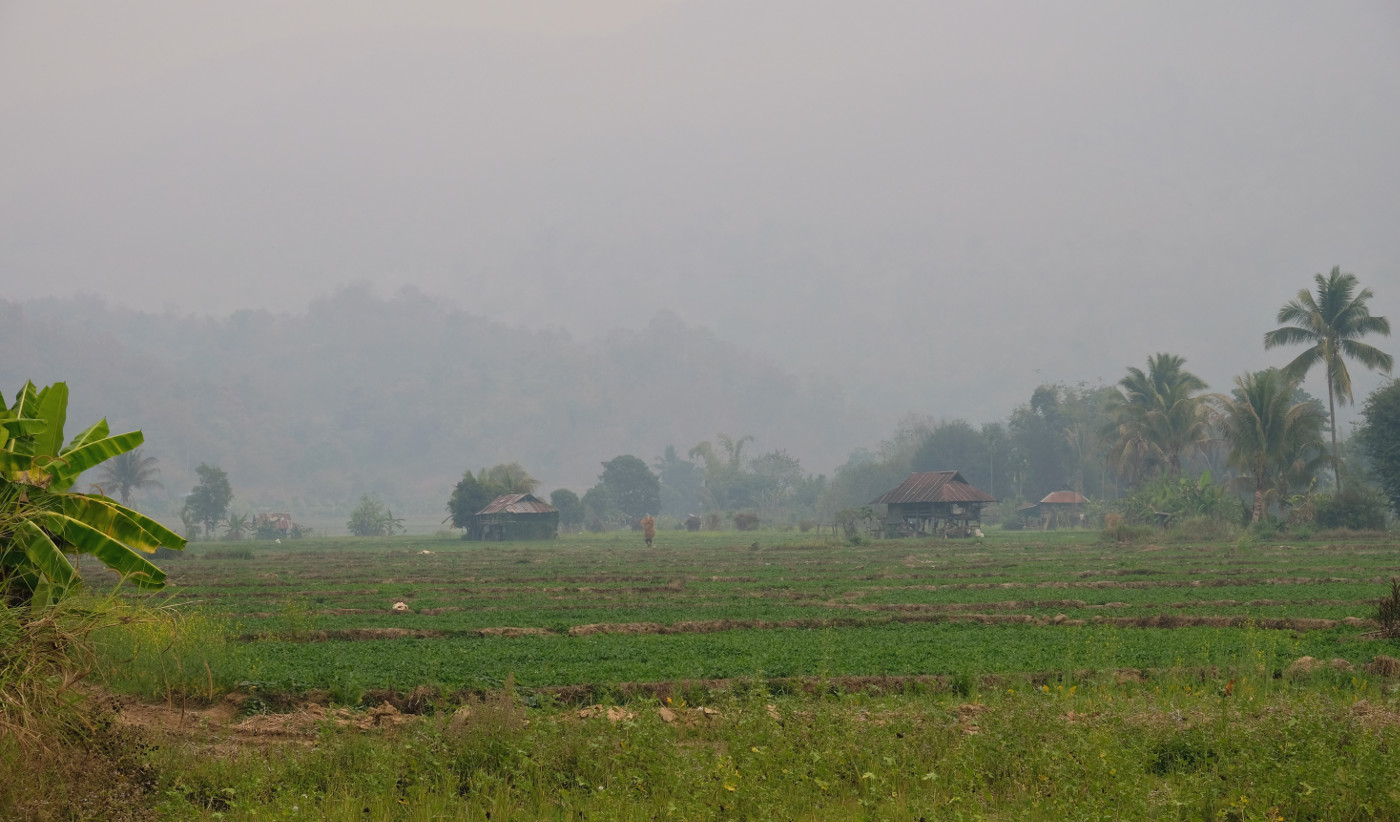 Hay-man carrying hay on the road to Ban Rak Thai
This was our favourite part so far and our experience with the villages of the North of Thailand has saved our opinion of Thailand overall, after our somewhat disappointing experience in the South. Accompanied by better temperatures, friendly villages and small towns, great food and coffee and wonderfully scenic nature (no matter which season you go in) - if you can, you really should go!